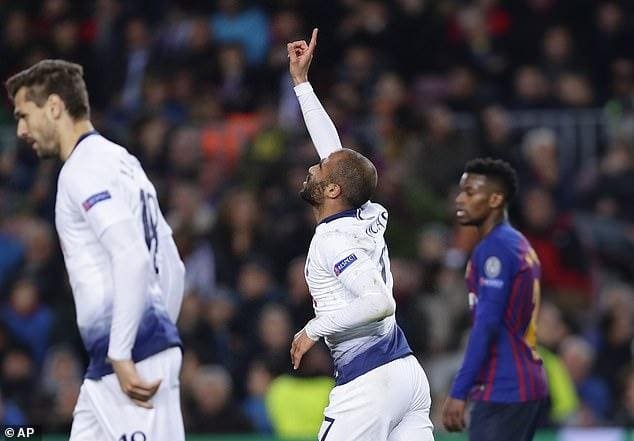 On the night when Tottenham clashed with Barcelona at the latter's home ground Camp Nou, there was an occurrence of chaotic scenes outside the venue just before the kickoff.
According to reports, Barcelona stewards mistreated Tottenham fans and hit them with their batons while they were entering inside the stadium.
The matter got attention when a fan uploaded a video on the twitter in which the stewards could be seen whacking Tottenham supporter with their batons. Here is the tweet from the fan:
I just need to address this issue which happened last night during the game. Absolutely disgusting behavior by Barcelona stewards hitting us with batons for no reason! @SpursOfficial please send this to @UEFA @ChampionsLeague its disgusting. RT to find these scumbags! #THFC #COYS pic.twitter.com/JYk5N3u7fw

— Alex (@SBergwijn_) December 12, 2018
The Tottenham Hotspur Supporter's Trust acknowledged the incident and tweeted,
"We're aware of significant issues entering the Nou Camp at Gate 21 this evening. We've requested an urgent debrief with the Club. In the meantime, if you have any photos or accounts you'd like to submit, please do send to us here or at info@thstofficial.com. Thank you."
Tottenham's spokesperson also gave a statement on behalf of the club and said, 'We have been made aware of a number of issues our fans faced in gaining access to the stadium.
'The reports we have received from our supporters are obviously of great concern to us and we shall be contacting the relevant authorities.'
This is not the first time that such scenes have come from Barcelona. Similar views had appeared this year when Chelsea visited the Catalunia during a Champions League meeting. At that time too, fans had posted several video clips of brutality on the internet.
A Tottenham supporter Calum Geraghty present onsite at the time of the incident and described the scary scenes and what had actually happened.
He told Sportsmail, 'They held everybody for quite a long time so people were getting p***** off,'
'They were obviously trying to control the crowd but they left everybody for so long that when they did open this tiny walkway to get through, people were pushing because we were like sardines.
'So as people were trying to funnel through they were trying to slow people down but rather than verbally ask people or manage it better, it was literally like the batons were out ready to just whack people as they walked through.
'That was what caused the anger because it wasn't as though they were breaking up a fight, it was just like herding cattle.
'It was quite scary because everybody was really pushing to get through this tiny gap because we wanted to get into the ground and not miss kick off.'
It is still unclear that what encouraged the security to take such actions and whether the use of batons was necessary at all.