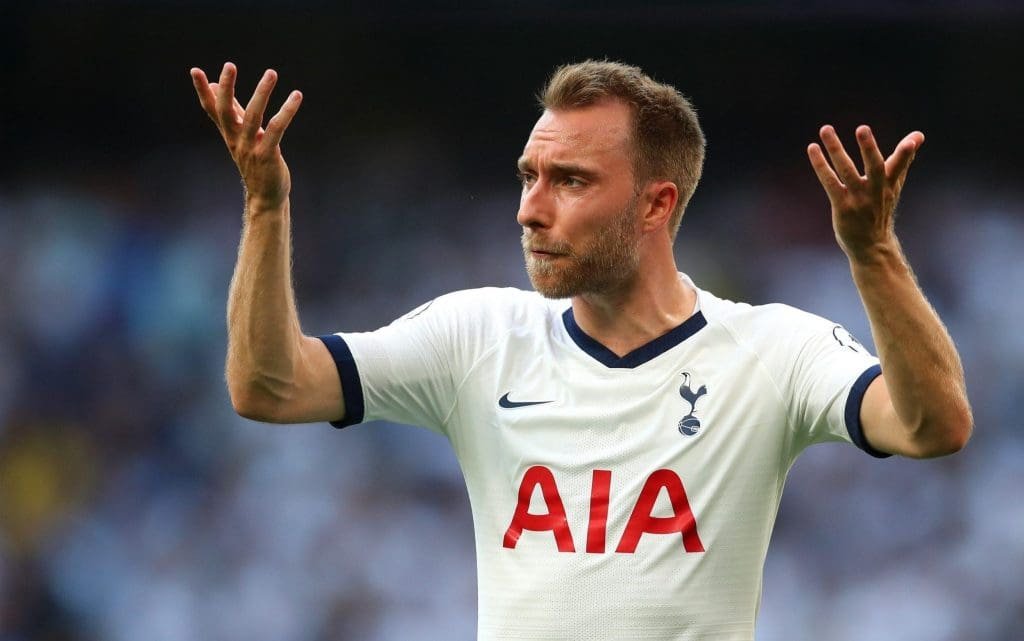 Tottenham continue looking for their first Premier League win since September, as Cenk Tosun's late equaliser meant another of disappointing outing for Pochettino & Co.
Dele Alli's goal looked like a potential winner but twelve minute injury time meant Marco Silva save his job and Pochettino has increased pressure to save his.
But, Spurs faithful lashed into Christian Eriksen as the Danish international had another of mundane of performances at Goodison Park.
Christian Eriksen's first-half by numbers vs. Everton:

0 take-ons completed
0 chances created
0 shots attempted
1 yellow card

No player on the pitch lost possession more times (12). pic.twitter.com/LqOvr2t0Kn

— Squawka Football (@Squawka) November 3, 2019
The second half was full of incidents, with VAR again centre of happenings, as Spurs were denied a penalty from Yerry Mina's challenge on Heung-Min Son which was followed by a potential Dele Alli handball which again was not given and Tottenham were lucky to find themselves leading.
Ofcourse all of controversies were surrounded by horrific Andre Gomes injury, which saw Son devastated & inconsolable and the Portuguese being stretched off straight to the hospital. Let's take a moment and hope for the best for Andre Gomes and his family.
The remaining of time was pretty much filled with empathy for Andre despite the play continued on field. But it even saw Everton dominate Spurs on the ball and creating chances on consistent basis until that Tosun header went past Gazzaniga.
And plenty of Spurs faithful took to Twitter talking about Christian Eriksen's performance and felt that he has contributed very little this campaign and fans are continuing growing frustrated with him and slammed Pochettino for not taking him off in the 101st minute.
Showing that he deserves a move to a 'bigger' club today @ChrisEriksen8 🙄 either try in our shirt or don't bother playing! #EVETOT @SpursOfficial #COYS

— Ross Edmonds (@rossedmonds44) November 3, 2019
You have to question how Tottenham Hotspur summer signing Tanguy Ndombele has been substituted when he's the best player on the pitch.

Then also try and fathom how Christian Eriksen remains on the field given his display and openly admitting he wants to leave Spurs.#THFC #COYS

— Ricky Sacks 🎙 (@RickSpur) November 3, 2019
Paulo Gazzaniga created more big chances (1) than Christian Eriksen (0). Christ.

— Elliot (@VivaYids) October 27, 2019
If there is a single Spurs fan who honestly believes that after watching that first of football, Christian Eriksen should still be on the pitch, please speak up.

I'm all for giving players chances but he truly has been awful, showing no interest, no intent and no desire.

— Paxton Lower (@PaxtonRoadLower) November 3, 2019
Christian Eriksen has clearly left Tottenham in his own mind. His performances this season have been absolute disgrace for a player of his quality. No desire, no heart and clearly not interested in playing for the club anymore. 💩💩

— 360Sources (@360Sources) November 3, 2019
Tottenham Hotspur midfielder Christian Eriksen has now collected more yellow cards than he has contributed goals and assists for Spurs so far this season.

Along with the Danish playmaker losing the ball 7 times in only the first half versus Everton at Goodison Park.#THFC #COYS pic.twitter.com/6ORQETvl3s

— Last Word On Spurs🎙 (@LastWordOnSpurs) November 3, 2019
Christian Eriksen has decided that he is playing in blue this week instead. #THFC

— COYS.com (@COYS_com) November 3, 2019
I never want to see Christian Eriksen put a Spurs shirt on ever again.

— Josh (@JOSHPlNTO) November 3, 2019
Sending love to Andre Gomes. That was a shit show. I can't support a manager who gives Christian Eriksen 101 minutes of Premier League football.

— Jack Scarfe (@jackscarfe) November 3, 2019
There's only 1 thing I can say about the Spurs match today. @ChrisEriksen8 please fuck off. I don't wanna see you in a Spurs shirt ever again. Not Tuesday, not next season not even for a fucking testimonial in 10 years

— Michael Staunton (@mikestaunton7) November 3, 2019
Christian Eriksen starting again? Schedule the same post for next week @Twitter. https://t.co/8vr3HmPirQ

— ROSS (@RossTweeting) November 3, 2019