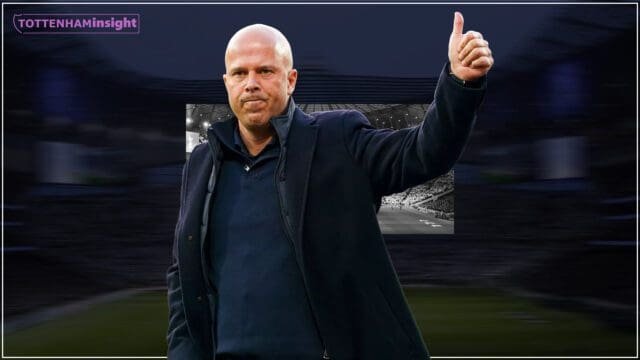 Tottenham's choice to refrain from significant expenditure in procuring the services of Feyenoord's manager, Arne Slot, has been met with censure. This comes after Slot declined the opportunity to join the club and opted to continue his tenure with the Dutch champions.
Reports had been circulating regarding Slot's possible transfer to Tottenham. However, it was disclosed yesterday that he had opted to remain at Feyenoord instead of joining Daniel Levy's Tottenham. The aforementioned development has elicited diverse reactions from the public, with the journalist Hans Kraay Junior being the most recent individual to articulate his viewpoint.
Kraay Junior has expressed his perplexity regarding Tottenham's inclination to allocate substantial funds towards player transfers while exhibiting reluctance towards investing in a manager, as reported by MSN. The author highlights that Tottenham's historical expenditure on transfers has reached €300 million, yet their offer for the desired coach amounted to a mere €7 million.
According to Kraay Junior, this can be considered as the most significant farce of the previous decade. He also raises doubts regarding the club's unwillingness to meet Feyenoord's requested amount for Slot's departure. The author posits that in the hypothetical scenario of being Rafaela Pimenta, Slot's agent, he would counsel her against accepting a meagre proposal similar to the one presented.
According to reports, Feyenoord purportedly requested a significant sum, with estimates reaching as much as €20 million, a figure that Tottenham declined to meet. Notwithstanding Tottenham's pressing requirement to secure a successor for Antonio Conte, they were unwilling to meet Feyenoord's assessed value.
He said speaking to ESPN via. MSN.com:
"That is the biggest joke of the last decade. Those Londoners throw €300m into the gutter like that, but for a desired coach they offer €7m. If I were Mrs Rafaela Pimenta (Slot's agent) I would say: never again call with such a pittance."
The critique underscores the divergent methodologies employed by the organisations with respect to player acquisitions and managerial selections. Although Tottenham have demonstrated a willingness to allocate substantial funds towards player acquisitions in previous instances, their hesitancy to make comparable investments in a manager has garnered attention and appraisal from commentators such as Kraay Junior.
The aforementioned scenario underscores the intricate financial considerations and decision-making protocols that are inherent in football transfers and managerial appointments. The course of action that Tottenham will undertake in their quest for a new manager is yet to be determined.