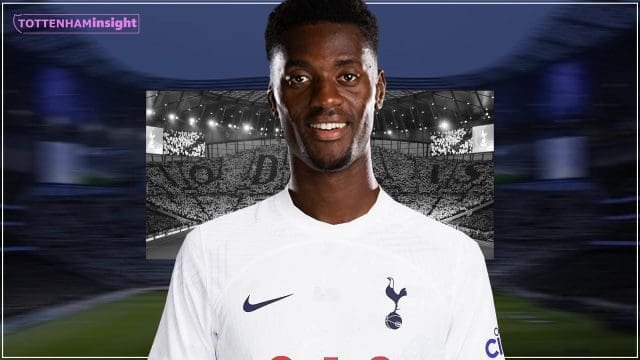 A mutual attraction: Tottenham's bid for Adarabioyo
Tottenham Hotspur have set their sights on the talented Fulham defender Tosin Adarabioyo, and the feeling seems to be mutual. Standing tall at 6 feet 5 inches, this towering centre-back has been on Tottenham's radar for a while, and their interest in him is no secret.
The talented defender has been a great footballer for the Cottagers in recent seasons. His quality needs no introduction and with Tottenham desperately seeking defensive reinforcements, Adarabioyo perfectly fits the bill.
A golden opportunity: Adarabioyo's eager desire
According to renowned Tottenham expert Alasdair Gold, Adarabioyo himself is enthusiastic about donning the white and navy blue of Spurs and would be willing to make this move happen.
With talks over a new contract at Fulham stalling and his current deal expiring in 2024, the timing appears to be in Tottenham's favor for a potential transfer.
Daniel Levy & co. are known to have a shrewd eye in the transfer market and will know that passing up on such an opportunity would be criminal. In many ways, this might be similar to the Manor Salomon deal that they pulled off.
Strengthening the Backline: A Piece in the Puzzle
Tottenham's defensive lineup currently revolves around the accomplished Cristian Romero, who has rightfully earned the prestigious title of a World Cup winner. However, as football aficionados know, one top-tier centre-back cannot bear the brunt alone.
While Tosin Adarabioyo could present a more affordable option compared to other defensive targets, signing just him would not be sufficient to address all the issues in the backline.
Tottenham's central defence requires a complete revamp, and that doesn't stop with the potential acquisition of Adarabioyo. One thing that the Fulham defender might be able to help with though is in meeting the home-grown quota.
It is crucial for Australian tactician Ange Postecoglou to evaluate if the talented defender fits seamlessly into his system, as his assessment will play a pivotal role in shaping Tottenham's backline for the upcoming season.
In the uncertain world of football transfers, signing Adarabioyo would be a sensible move for Tottenham. The towering centre-back's experience in the Premier League and his desire to join the club make him an enticing prospect.
However, in their pursuit of defensive solidity, Tottenham must recognize that acquiring Adarabioyo alone will not be enough. The club must be prepared to make additional strategic moves to fortify their defense and achieve their ambitions.