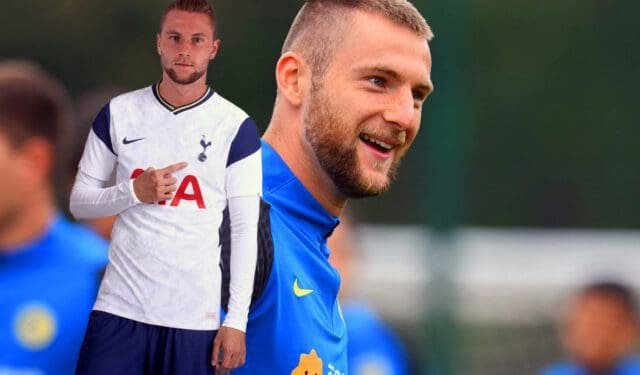 Possibly Tottenham's busiest transfer window since Gareth Bale left for £100 million in 2013, technical director Fabio Paratici has been busy in the transfer market since Day 1. He is using his knowledge of Serie A to the fullest, courtesy of which Spurs are now targeting Inter Milan's Milan Skriniar.
One of the most sought-after centre-backs in Serie A, if not world football, Skriniar has been at the top of his game for quite some time now, and it was no surprise that Spurs tried to sign the player last season as well but were thwarted by Inter Milan by their valuation of the player. While Inter Milan were looking for £45 million, Spurs were trying to negotiate a deal for around £32 million, and talks eventually broke down even though the player wanted to move.
It all turned out well for Skriniar in the end as he won the Serie A last season, but given the current state of the club, he might want to opt out and make a move to North London again. Inter Milan, who are currently looking to sell players to raise money to cover their losses will look at offers for any player, and if the price is right, they will let the player go. The club have already sold Achraf Hakimi for £65 million and given that Skriniar has only 2 years left on his contract, they will be open to offers in the range of £40 million for the centre-back as per Italian outlet Calcio Mercato.
Why do Tottenham need Skriniar?
Although Tottenham were excellent in the first half of the season, they crumbled towards the end of the season, mainly due to their substandard defending. The lack of a central voice in the backline hurt Tottenham, while Jose Mourinho's feud with Toby Alderweireld did not help either.
Moreover, new boss Nuno Espirito Santo is a fan of a 3 man backline, something Skriniar has more experience in playing in than any other Spurs centre-back. This is also the reason why Tottenham are targeting Bologna defender Takehiro Tomiyasu. As per the Daily Mail, Tottenham are also ready to listen to offers for Davinson Sanchez, Toby Alderweireld, and Ben Davies.
Thus, Tottenham need a new backline or at least 2/3rd's of it if the Spurs hope to compete at the top next season. Skriniar would be a fantastic addition, and at 26, he is hitting his footballing peak, something Tottenham want to reap the rewards of.
What can Skriniar add to Tottenham?
Nuno Espirito's team normally plays with the ball on the ground and he would want the same at Tottenham. Skriniar could certainly help with this as his 93% pass completion rate was the best in Inter Milan's squad last season, while his understanding of space and awareness of players around him make him an astute passer of the ball. His long-range passing could use some work, but Skriniar has the quality to improvise on that.
Skriniar provided 19 shot-creating actions last season, which would have been 3rd best in the Premier League for defenders, behind Harry Maguire and Ruben Dias. An interesting statistic, which would have certainly piqued Tottenham's interest, is Skriniar's tackle completion rate and the areas in which he wins the ball. Last season, most of Skriniar's tackles came in Inter's defensive third, which means that he is good at sniffing out danger when the opposition team gets close to his goal while he was also applying pressure at the right time.
'Applying pressure' represents how often a player is getting close to the opposition player who has just received the ball. At 239 pressures, Skriniar was miles ahead of any Premier League centre-back last season.
Lastly, it is also crucial to Nuno's setup that his centre-backs are comfortable in possession and can carry the ball when need be. Skriniar completed 1711 carries last season, more than Harry Maguire, Thiago Silva, and John Stones while the Slovakian also ventured into the opponent's final third quite a bit last season, evidenced by his 238 touches in the final third of the pitch.
Milan Skriniar is one of Serie A's premium centre-backs currently, and if he does seal a move to Tottenham, he could give a new face and a new voice to the club's backline.
When could Tottenham complete this deal?
Fabio Paratici is not wasting any time in signing players, and once Tottenham agree on a fee for the player, it is reported that personal terms should not be an issue.
Tottenham would preferably want to complete this deal before the start of 'The Mind Series', in what is set to be a first of its kind pre-season friendlies as a curtain-raiser to the 2021/22 Premier League season. This will start on 1st August as Tottenham face London rivals, Chelsea. However, signing Milan Skriniar could take time, but Paratici would be sure to complete this deal before the start of the season i.e., 14th August 2021.