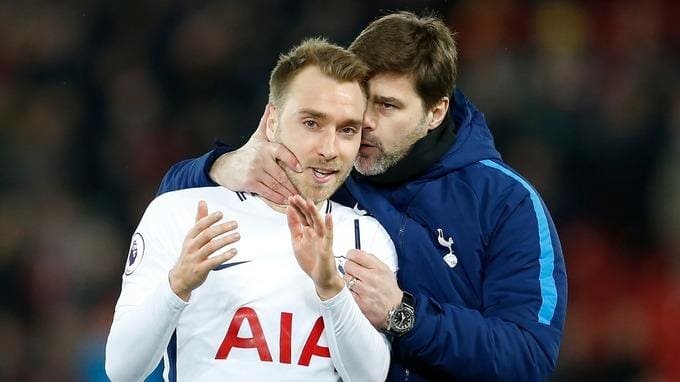 Spurs are eager to tie Eriksen to a new contract with talks between the club and players being stalled for a long time. Spurs manager Pochettino has admitted he is not sure whether Eriksen will sign a new contract.
The player has 18 months left on his contract and if he does not sign a new contract there is fear that the star player may leave the club for free. Eriksen has been one of the most important players in the team often being dubbed as the best player in the squad by fans and pundits.
Eriksen has played a vital role in helping Spurs in back to back top 4 finish in the league.
SSpeaking to Sky Sports, Pochettino told, "No news is good news. Who knows? I am not a person who suffers too much in this type of situation, because football is dynamic.
"Football is about interests that sometimes as a manager we cannot manage. It depends on many things. Different parties have different interests.
"Of course Christian Eriksen is so important for us and you would like to have this kind of player with you. But it's a negotiation with different parties, with different interests.
"It would be fantastic if Christian Eriksen committed to the club for a long time. If not, it's his right to do what he wants to do."
Eriksen has garnered interest from giants Barcelona and Real Madrid and the player is looking at his options as he wants a huge increase in his wage that will see him earn at par with striker Harry Kane.