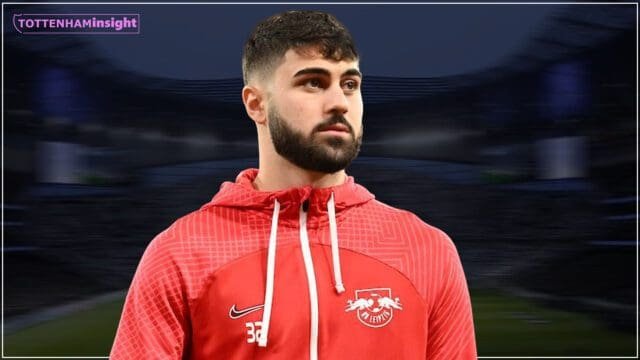 Real Madrid and Chelsea have been linked with a move for Tottenham target Josko Gvardiol, a 21-year-old Croatian international who has been impressive in the Bundesliga this season.
Gvardiol has been dubbed as one of the most promising young defenders in Europe, with his performances for Leipzig catching the attention of several top clubs. Despite his young age, Gvardiol has already established himself as a key player for his club and country, earning plaudits for his impressive displays at the back.
It is no surprise that the likes of Real Madrid and Chelsea are keen on the Croatian international, given their need for defensive reinforcements. Real Madrid have struggled in defence this season. Similarly, Chelsea have had their fair share of defensive issues.
However, Manchester City and Tottenham Hotspur should not be discounted as potential suitors for Gvardiol. Both clubs are in need of defensive reinforcements, with Pep Guardiola's side struggling to find a consistent partner for Ruben Dias, while Spurs have been plagued by defensive issues all season.
From a Tottenham perspective, signing Gvardiol would be a shrewd move for the club. The 21-year-old has all the attributes to be a top defender, with his physicality, pace, and ability on the ball making him an ideal fit for the Premier League. Furthermore, with a £97m release clause in his contract, signing Gvardiol now could prove to be a wise investment for the future.
However, the competition for Gvardiol's signature will be fierce, with Real Madrid and Manchester City both able to offer the defender the chance to compete for major trophies on a regular basis. Man City could offer Gvardiol the chance to work with one of the best coaches in the world in Pep Guardiola, which could be a tempting prospect for the young defender.
Ultimately, it will come down to what Gvardiol values most. Does he want to play for a club with a rich history and a proven track record of success, such as Real Madrid or Chelsea? Or does he want to join a club with a bright future and the potential to challenge for major honours in the coming years, such as Tottenham Hotspur or Manchester City?
Either way, Gvardiol is a player with a bright future ahead of him, and it will be interesting to see where he ends up in the coming months. Tottenham Hotspur, however, must act fast if they want to secure the services of the young Croatian, as competition for his signature will only increase in the coming weeks and months.
In conclusion, the potential signing of Josko Gvardiol would be a positive move for Tottenham Hotspur. It does not seem realistic though, and we might miss out on him eventually.