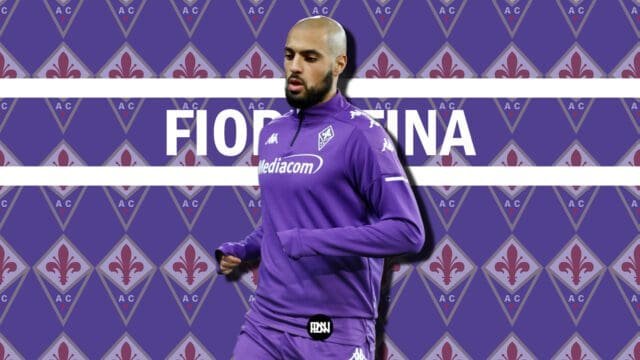 The January Transfer Window has proved to be a quiet one for the Premier League's traditional Big 6, and time's running out to change this. With only City pulling off the signing of Julian Alvarez & Chelsea recalling a couple of loan players, their has been more action on the outgoings department when it comes to the traditional BIG BOYS. With the final week of the window now upon us, teams are strangling to get deals over the line. One such deal is Sofyan Amrabat to Tottenham, the one we will be analyzing today.
Tottenham – The window so far:
Tottenham Hotspur are marching towards the Premier League Top 4 courtesy of their Italian General, Antonio Conte. When Conte joined the club, it certainly raised a few eyebrows. He had quit the Inter job after massive disagreements with the cub ownership over their lack of investment in the squad. It was natural to question how a manager who demands constant investment in the squad can co-exist with an owner like Daniel Levy. Daniel Levy is known for playing hardball over transfers, not to mention the Kane Saga last summer. His lack of a planned transfer strategy has been heavily criticized in the past, and deservedly so.
Conte promised the Spurs faithful that reinforcements would arrive in the winter window, but that hasn't happened so far. The only significant movement that has happened so far has been on the outgoings front. Ndombele's representatives are locked in negotiations with PSG to manoeuvre a move to the French giants. Dele Alli, another out of favour player is also expected to leave the club, most probably on a straight loan with no buy option. Ajax are pushing to sign Bergwin, preferably on a permanent deal, but Son's injury seems to have delayed the transfer.
On the incoming front, there seem to be 2 deals which can be pushed over the finishing line before the transfer window shuts. Spurs are locked in negotiations with Portuguese Giants Porto for the signature of Colombian winger Luis Diaz. Although an agreement is yet to be reached, the deal is seemingly progressing in the right direction. But the deal in focus today is related to the Moroccan midfielder Sofyan Amrabat. Let's dive into it.
Who is Sofyan Amrabat?
Sofyan Amrabat is a 25-year-old Moroccan midfielder who currently plays for Fiorentina in Serie A. Amracat started his professional playing career at Dutch side Utrecht. After spending 3 seasons at the club as a part of the first team, he moved to Dutch giants Feyenoord in 2017. The following season he moved to Club Brugge from where he was loaned out to Hellas Verona. Verona in turn sold him the following season to Fiorentina, the place which witnessed the birth of a future star. His stint at Fiorentina & with the Moroccan national team has attracted a number of suitors from across Europe, but Tottenham seems to be leading the line.
Why does Conte want him?
Antonio Conte has implemented the 3-5-2 formation at Tottenham, something which he excels at. In this formation, the midfield has proved to be Tottenham's Achilles heel, a major point of concern for Don Antonio! The midfield personnel which he has at his disposal is undoubtedly a talented bunch, but it certainly has it's limitations. Spurs lack an out & out Number 6, someone who can penetrate opposition lines, progress the ball & break the opposition press.
Hojbjerg is a player who has played in that role but his performances have been nothing short of underwhelming. His passing range is his best trait but when the opposition presses the ball with intensity, Hojbjerg is unable to play out. His slow footwork invites pressure from the opposition players & prevents Spurs from quick ball progression. Oliver Skipp is not a defensive midfielder by any sort. He is a Number 8, box to box midfielder who's had to play a lot deeper to provide defensive cover. Harry Winks is the only recognized defensive Number 6 at Conte's disposal and he has impressed under Conte so far. The issue with Winks is that he needs someone to cover for him in certain situations, especially while defending against opposition counterattacks. Ndombele has been given a chance to prove his worth in this Spurs side but his work ethic is not good enough to run an Antonio Conte midfield.
After analyzing player profiles, it's clear that Spurs are lagging in midfield. With this in mind, let us now look at how Amrabat can help this current Spurs side.
His Playing Style:
Amrabat can best be described as a defensive Number 6 who likes to play as a Number 8. This might sound a bit weird, but we have substantial evidence to back it up. In Florence, Sofyan is often deployed in a midfield 3 as a Number 8. His primary job in that Fiorentina side is to lead the midfield's press, win the ball back & quickly transition play into the opposition half. His ability to run with the ball at his feet is something that can be recognized as his best asset. When in possession, Sofyan isn't afraid to dribble his way out of a tight spot, even if it means taking on the opposition players. His playing style can be compared to someone like a Kante or Brozovic.
These 2 names can perfectly help us analyze how Conte can fit him into his setup. When Conte was at Chelsea, he had a midfield engine like Kante, someone who pressed the midfield with full intensity & wasn't afraid to take on the opposition players, Similarly at Inter, Conte had a player like Brozovic who used to act as the midfield dynamo. Although his team have met reasonable success in the League since he took over, still the team lack that engine who can run that midfield, something which Amrabat can offer.
Sofyan can easily fit into this setup & form a partnership with the likes of Hojbjerg & Skipp. Furthermore, a player of his profile will give Conte the license of playing a more creative Number 8 in the midfield 3, possibly someone like Giovani Lo Celso. With the defensive cover of Sofyan & Hojbjerg/Skipp/Winks, Lo Celso can join in the attack & add that bit of cutting edge to Spurs' attacking play.
The latest developments:-
Sofyan is currently away on international duty with the Moroccan National Team at AFCON. His parent club Fiorentina are prepared to listen to Loan offers for the player, and Tottenham seems to have matched their demands. Tottenham have offered Fiorentina a loan deal till the end of the season, with an option to buy in the summer. Although the deal hasn't been confirmed yet, it is believed to be a matter of time before an agreement will be reached with the club.
Sofyan is a player who can massively help Conte & his men in their bid for a Top 4 finish. His tenacity & ball-playing ability are a treat to watch & might just prove to be the perfect stimulus for Spurs to secure Champions League qualification.