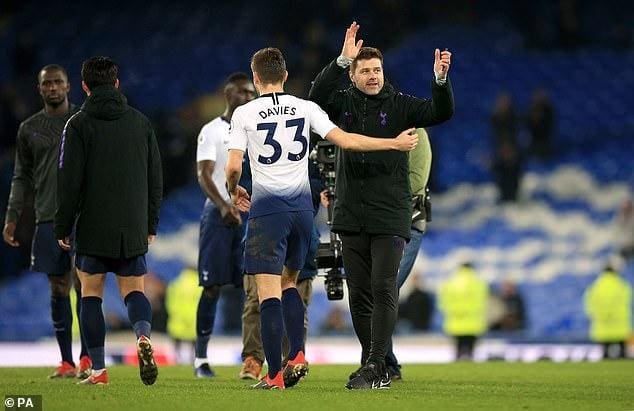 Mauricio Pochettino believes that Tottenham Hotspur are still not favorites to win the Premier League title but could rival Liverpool and Manchester City for the trophy if they continue to produce the performances as they did against Everton at Goodison Park.
Pochettino's men ran riot over the Toffees as they clinched a 6-2 victory over them. It was a pure attacking display by Spurs which was added by "Son Heung-Min and Harry Kane's heroics."
The Spurs boss accepted that the Lilywhites have been very consistent this year in comparison to the previous ones. And although they are still far from being considered as the 'real title contenders' still their consistency can help them put pressure upon the Anfield side and the Citizens.
The Argentine told the Guardian, "I still believe Liverpool and Manchester City are the real contenders and favorites to win the Premier League. We are there but so are Chelsea, Arsenal and Manchester United. I think there is still a long way for me to say we are real contenders. Football is about being consistent, of course.
"If we are able to be consistent and play in the way we did tonight I think yes, maybe we could then be a real contender but there is still a long way. We are involved in four competitions. I think today we surprised everyone with the energy and quality we showed today which was amazing after playing Arsenal on Wednesday."
He added: "If you compare the result with the past of Tottenham then yes we were consistent, but not enough to be a real contender. Two seasons ago when we were fighting with Leicester … the gap was so big with different teams that won the Premier League: Chelsea or Manchester City last season. Now we are close but we need to be cautious, go step by step, game by game.
"We need to be conscious about that, we need to fight a lot, and there is still a long way for work and to be consistent. Being involved in four competitions will be tough but we are going to try. The mentality today was clear and we need to always think about the next game and try to win every game and to be in the best condition to fight for big things."