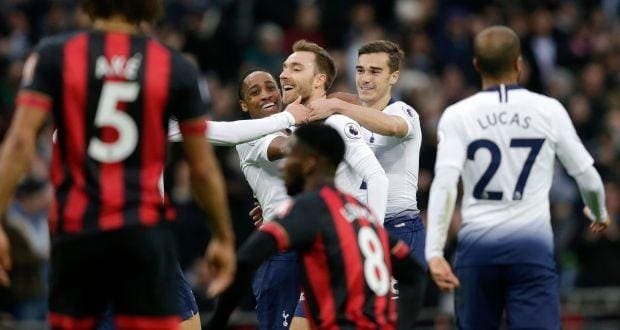 Pochettino's Spurs have been in an impressive form since the defeat at the Emirates. Tottenham now sit in the 2nd place after City suffered another defeat against Leicester City. After hammering Everton 6-2 at the Goodison park Spurs scored 5 past Bournemouth at the Wembley stadium.
Heung Min son scored another brace and helped his side clinch the victory. Kyle walker peter was the star of the match becoming the first player to give 3 assists in a single match since 2003.
Spurs now sit on the 2nd place 6 point behind leaders Liverpool. Spurs are in the race to win a silverware this season as they remain in all the competitions.
Pochettino was left impressed by his side and said "Yes, we were clinical but we dominated and fully deserved the victory, a victory that with all the conditions is massive for us, because we had one day less than them to prepare.
"To show the energy that we showed today was fantastic. I'm very pleased, it makes us very happy. It showed the belief and that we are in a very good direction this season trying to achieve the thing that we want."
Spurs next host Wolverhampton at the Wembley followed by a trip to Cardiff city.