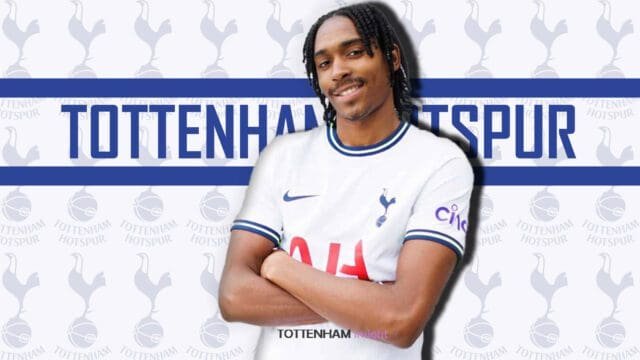 Spurs announce their 6th signing of the summer in Djed Spence, and it is already looking fiery with all the newbies coming to the Tottenham Hotspur Stadium this summer.
Spence is Spurs 👊 pic.twitter.com/H1VfyZwiFP

— Tottenham Hotspur (@SpursOfficial) July 19, 2022
Djed Spence was unveiled as a Lillywhite earlier today after the club successfully bought him from Middlesborough for a reported fee of around £20 million (including add-ons). The U21 English International was the star of the Boro squad last season. A raw and talented right-back with a repertoire of skills to grow and become a beast of a player in the future. It is a special signing for Conte and Spurs – who will be eyeing silverware this season.
Not long ago, ex-Boro right-back was wanted by a few of the European giants, and now it seems as if the Londoners might have hit a cut deal here. Spence came up from the Fulham youth team, making his way to the top as he faced a strong challenge to contend for a place in the playing XI. However, he did not cope with the challenges and ended up leaving the Craven Cottage to join Middlesborough.
At Middlesborough, he showed his prowess in the U23s as he added strength on the right side and in the defence, but something again did not go well enough. Spence came under the limelight of his managers for not focussing on his game, leading to a downhill spell from thereon. Distractions, poor attitude, and whatnot- the Englishman was out of sorts, affecting his on-field performances.
This lapse in performance forced the Middlesborough Board to put the player on the loan list. And Nottingham Forest was the first to move in on the player and get him on loan before the start of the last season. While there was no shortage of talent whenever Spence played, it was his attitude that landed him here to the Gabiraldis. According to Neil Warnock (Middlesborough's manager at the time of Spence's loan move to Nottingham), Spence would end up at a top club or "non-league", clearly believing that he had a lot of work to do from an attitude perspective. (via thePunditArena)
No one knows the reasons for Djed's successful campaign last year, as he made 46 appearances for Nottingham Forest – helping them get a promotion. Three goals, four assists, and a Championship play-offs victory – is a lot for a player who was criticised a year before by his manager. This win also saw the two, Warnock and Spence, take on each other on Twitter.
Well done Djed , I did say you were premier league or non league, glad you listened and took my advice on board now go and enjoy your success

Those cigars won't do you any good though son 😉 https://t.co/EANP8g4ri9

— Neil Warnock (@warnockofficial) May 30, 2022
Now Tottenham Hotspur has announced the signing of the English International, and it is looking big for the North Londoners going into the next season. Perisic, Forster, Bissouma, Richarlison, Lenglet and now Spence – Antonio Conte means business at Spurs and a trophy to show for it.
Introducing signing number six… pic.twitter.com/8Q2LKYwNae

— Tottenham Hotspur (@SpursOfficial) July 19, 2022
Meanwhile, looking at their 6th summer signing, the right-back, Djed Spence, it is evident that the new players are coming in to spark a healthy competition within the squad. Emerson Royal, along with Matt Doherty, will face competition and a half with the addition of Spence within the ranks. The newly bought English starlet can also play further up the pitch, bringing Lucas Moura into the thick of this competition.
With a jump to the Premier League straight from the Championship, it will be interesting to see how the talented 21-year-old would do. From what Warnock mentioned, it seems that the boy has made it into the Premier League, but does he have what it takes to reach the top level and defy the challenges in one of Europe's top leagues?