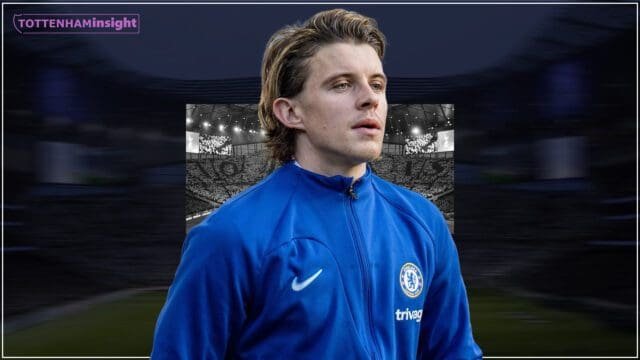 Recent reports from Telegraph football suggest that Tottenham Hotspur has identified Conor Gallagher as a potential replacement for Pierre-Emile Hojbjerg. The midfielder, currently on loan at Crystal Palace from Chelsea, could command a price tag of up to £50 million in the current market. In this article, we will delve into Gallagher's profile, evaluate his performance statistics, and discuss the potential implications of his transfer to Tottenham Hotspur.
Conor Gallagher, a product of Chelsea's academy, is a 21-year-old English midfielder with potential.
While many football enthusiasts hold a positive opinion of him, I remain skeptical. The speculated price tag seems steep, considering the English premium attached to homegrown talents, and Chelsea's reluctance to part ways with their players to a rival club.Move on from Conor Gallagher, we have other things to worry about…
Gallagher's contract runs until June 30, 2025, adding a level of stability to his future.
Gallagher enjoyed a successful loan spell at Crystal Palace, where he stood out and was even named their Player of the Year. In terms of his Premier League stats, he has made 45 appearances for Chelsea in all competitions, contributing three goals and one assist.
His record at Crystal Palace is more impressive, with eight goals and five assists in 39 games.
However, one concerning statistic is Gallagher's 66 yellow cards in 109 appearances across all competitions, suggesting a potential disciplinary issue.
Gallagher possesses an energetic playing style, making him a decent number eight midfielder. He demonstrates good energy levels and contributes to the team's attacking play, providing 13 goals and six assists in his Premier League appearances. However, it remains questionable whether his goal-scoring contributions are a necessary attribute for a midfielder in Tottenham's system.
Comparing Gallagher's statistics to those of Pierre-Emile Hojbjerg, the player he would potentially replace, reveals some similarities. Both players have similar contributions in terms of goals and assists, with Gallagher having a slight advantage. However, Hojbjerg's overall play, consistency, and ability to start every game must be acknowledged.
Gallagher has started 78 out of his 99 Premier League appearances, indicating room for improvement in terms of securing a regular starting position.
While it is plausible that Gallagher could be an upgrade over Hojbjerg in certain aspects, such as attacking contributions, the reported £50 million price tag raises concerns. It is vital for Tottenham to focus on strengthening their center-back positions, as they have been lacking in defensive solidity. Therefore, it would be more prudent for the club to prioritize signing quality center-backs rather than investing heavily in midfield reinforcements.
While he possesses promising qualities, the reported price tag and Chelsea's potential reluctance to sell to a rival club cast doubt on the feasibility of this transfer. Tottenham should focus on addressing their defensive shortcomings before committing significant resources to bolster their midfield.