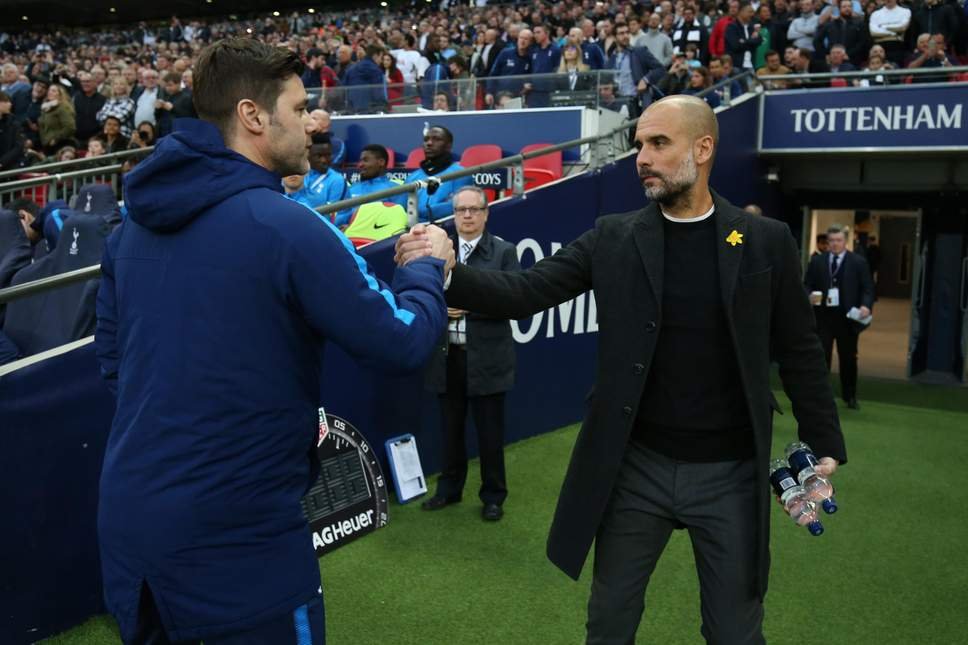 Tottenham Hotspur Manager Mauricio Pochettino and Manchester City Manager Pep Guardiola share a long history between them. From Barcelona vs Espanyol derbies to rivalry in the Premier league the duo have faired very well in their careers.
The Two Managers are all set for the 2nd leg of the Champions League Quarterfinals clash at the Etihad. Mauricio Pochettino praised Guardiola stating most coaches in football could only dream of being "one per cent" as successful as his long-time sparring partner Pep Guardiola.
Manchester City is fighting for a quadruple having already won the EFL cup and booked their place in the FA cup final and sitting at the top of the league.
Tottenham will head to the Etihad with a 1 goal advantage against the league leaders and will be hoping to dent their chances of a quadruple and book their place in the clubs 1st Champions League Semifinal.
Talking before the match Manager Pochettino said, "It's not more motivation or a bigger challenge [because of Barcelona and Espanyol],"
"The challenge is that Guardiola is one of the best managers in the world.
"Of course, I am an Espanyol fan, I am going to support Espanyol. I played more than 10 years and I coached Espanyol for nearly five years.
"He was at Barcelona nearly all his career as a player and we started our coaching careers at the same time.
"It makes it special, the situation, because we have a good feeling between us. It is a good feeling that he has in his coaching team. Mikel Arteta or [club doctor] Eduardo Mauri or [fitness coach] Lorenzo Buenaventura are all good friends.
"All these people are all good friends. It is the challenge, it is the motivation, but at the same time it is nice to see them because we met in Barcelona playing a lot.
"Now we are in England, in Manchester and London, playing in the quarter-final of the Champions League. For me it's a massive dream – for them maybe not too much – but for me it is a massive thing."
"I don't remember and sorry if I am wrong but I think he won 24 or 25 or 26 trophies in his career," he grinned. "I think he is the most successful manager in the last 10 years, for sure. There is not another like him, of course.
"But for me, winning a title with Tottenham is a massive dream. To win 24 or 25 or 26 – I'm not sure – is more than a dream for any manager in the world. What he did in Barcelona, Bayern Munich and now with Manchester City is unbelievable. It shows his quality and how good he is."
Pochettino added: "Of course, for us it is not easy. I think we measure our success, different coaches earning different things.
"I think Espanyol, Southampton and Tottenham are different projects to Barcelona, Bayern Munich and Manchester City. We need to settle our objectives at a different level.
"But, of course, any coach can dream to be maybe one per cent as successful as Guardiola is."
The 2 Managers have always expressed their admiration for one another and it remains to be seen who will come out on top in the 2nd leg of the Champions League quarterfinals.