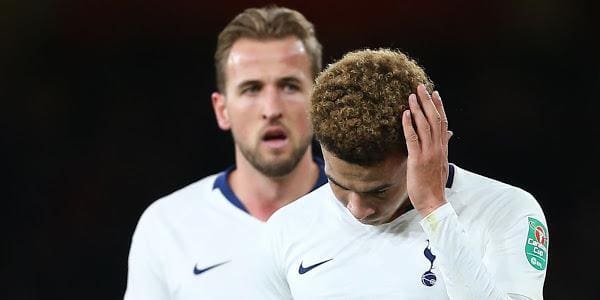 Delle Ali has been in the headlines and manager Mauricio Pochettino praised Alli for his reaction to the bottle thrown at him.
"It was an amazing reaction," Pochettino said in his news conference to preview Sunday's match with Everton.
"In another country, the player was going to be down on the pitch. Dele behaved really well. Arsenal should be grateful to him because the player could have gone down and created a massive problem.
"I think the behavior was top from Dele. Sometimes he is criticized but he was very mature."
Pochettino added that Arsenal should not be punished for the actions of one person, claiming: "One person cannot create a mess in a club like Arsenal.
"Arsenal is going to take a big decision, with the responsibility to fix. People have to behave and celebrate and support your team but in the right way.
"It's such a dangerous thing if the bottle hit him on his head or his eyes were then talking about a very bad thing.
"There's no point when you go to enjoy a game and that happens."
This incident is followed by the incident of banana skin being thrown towards Arsenal striker Pierre-Emerick Aubameyang in the Premier League match between the sides at the same venue on 2 December however the man was later identified and was fined and banned from football for four years on Tuesday.
However, Alli made sure to teach the Arsenal fan his lesson as he scored and assisted to win the game 2-0 for his club.