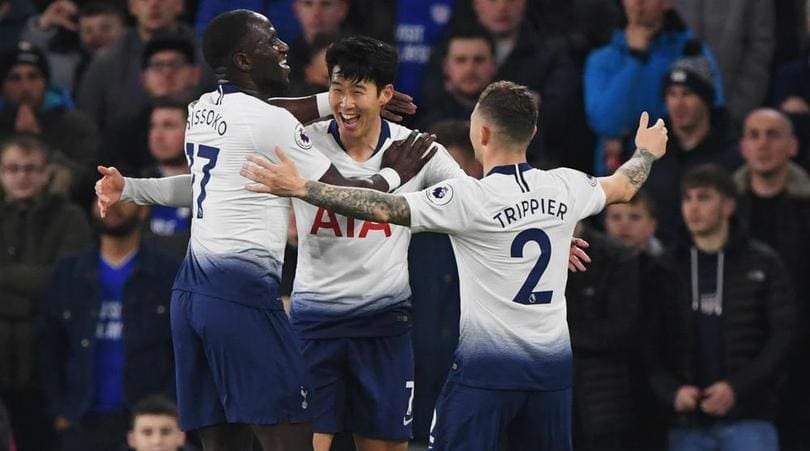 Spurs were in terrific form since November which saw them book them book their place in the. EFL semi-finals after avenging their 4-2 defeat against their arch-rivals Arsenal the earlier week.
Spurs knocked out Arsenal from the EFL cup and since then there was no stopping the team as they went 5 games unbeaten in the league which included 6-2 and 5-0 thrashing of Everton and Bournemouth. Spurs also booked their place in the round of 16 of the champions league with an impressive draw against Barcelona at the Camp Nou.
However, while Spurs were on cloud 9 with back to back victories Wolverhampton brought them down and defeated the side 3-1 at Wembley to dent their chances of winning the league and dropping to the 3rd position in the league 9 points behind leaders Liverpool.
Spurs bounced back even stronger from the defeat and crushed Cardiff 3-0 in front if their fans.
After the match, Mauricio Pochettino said the victory has shown Spurs can still challenge for the Premier League title.
Pochettino told, "I think it was a massive victory, a massive three points to make us believe that little more, in our possibility to be in a very good position in the table," Pochettino said, as quoted by the Guardian.
"I think it was so important to start the new year with a victory, away from home, at a very difficult place. I think they arrived with massive confidence after the last game [against Leicester].
"From the beginning today we showed massive energy and I think that is the team we want, and expect, to see to get a good performance on the pitch."
He added: "I think it was so important to start to build another positive run and, of course in football it is impossible to win every single game, but for sure we are going try to win every single game until the end.
"I think it was so important for everyone, for confidence, because in three days we are going to start another competition, the FA Cup [against Tranmere], which is going to be important too and then the semi-final of the Carabao Cup against Chelsea."
Spurs next face Tranmere Rovers to kickstart their FA cup campaign.