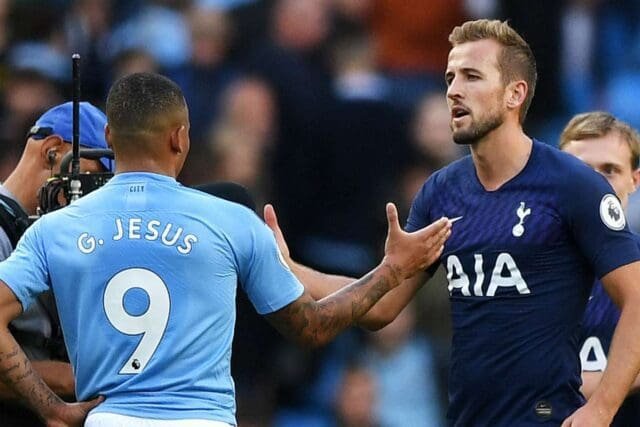 With a new manager taking charge at N17 this summer, Spurs are in desperate need of a major overhaul especially with the dim future of Harry Kane. If the English man bids adieu, Tottenham will have to find someone who can not only give those goals but also that admiring presence upfront. Many strikers are speculated to be in the market including the likes of Romelu Lukaku, Antoine Grizemann, Cristiano Ronaldo, Edin Dzeko, Wout Weghorst, Andre Silva, Luka Jovic.
All the names mentioned above will cost considerably and irrespective of a major cash inflow expected if Kane is to be sold – that'd be too much to bag on considering the loans and interest Levy has to pay back owing to Stadium Debts and Covid low-interest debt.
And knowing Levy, he'll play hardball in anything or anyone that goes out or comes in. This is why Daily Star's report of Spurs likeliness of a cash-plus-player deal for Harry Kane makes sense.
The report states that Tottenham will be willing to get Manchester City forward Gabriel Jesus in the aforementioned cash-plus-player deal. The Brazilian is believed to be valued at £70m and a similar amount added on the cheque will be something Spurs will be willing to accept to let go of Kane.
The report also claims that Pep Guardiola is reluctant to let go of Gabriel Jesus – but understands if he is included in any deal with the perspective of getting Harry Kane.
Kane is irreplaceable in this Tottenham squad, and the fact that he wants to move on doesn't give Tottenham much to do in his mooted price tag of £150m. And his desire to remain in the Premier League is just more head-aches for Levy.