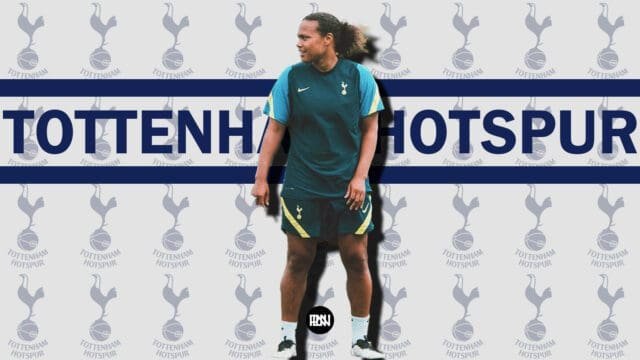 Tottenham Hotspur have confirmed the signing of 29-year-old Jamaican international Drew Spence from fellow Women's Super League club Chelsea on a 2-year-deal with a further option to extend for 12 months. This is Spurs' first signing of the window, so any Spurs fans who saw this on their Twitter timeline at 10:00, would have been happy that their signings are starting early, meaning that there could be more to come soon.
Spence only played 436 minutes last season for Chelsea, so it's understandable that she'd want a move away despite Chelsea having a successful season. At 29, Spence needs to start playing for teams who will give her game time as well as trophies because she's in her peak years.
After signing with the Lilywhites, she said: "I'm really excited. It's a new chapter for me. I've seen how much the team has progressed over the past few seasons, challenging teams at the top, so it's the right move for me and somewhere where I can bring all my experience. I know how to win titles, I know what it's like to be in a dressing room where there is a winning mentality every day and hopefully that's something I can bring here."
Spurs manager Rehanne Skinner remarked that, "Drew is a fantastic addition to the squad we are building. Her achievements in the WSL have been significant, having been involved in the league since the start in 2011. She brings a huge amount of experience and understanding of winning, having been a part of 11 trophy-winning teams. As a midfielder, Drew is creative, tenacious and capable of unlocking defences in a number of ways, and will be an asset to the team."
Drew played for Spurs' rivals Arsenal in her youth career, before moving from their Centre of Excellence to Fulham's academy. She signed for Chelsea in 2008, an absolute testament to her loyalty, and during her time there she has seen so many players and titles.
In her 14 years with the Blues she has seen life before Emma Hayes' project, has seen it starting up, and now leaves with them aiming for the Champions League and a fourth successive WSL title. She has seen the rise of Chelsea Football Club on the women's stage, and now she is leaving it to go into the next generation.
Moving onto the Spurs side of things, it's good that they've just replaced Maéva Clemaron/Josie Green with a serial winner, who knows every team inside out and with bags of experience in the WSL to help them to get to that next step of properly closing down the Champions League spots.
It works really well for Spurs and Spence that they get to work with each other for next season. Spurs really need midfielders, and Drew Spence is someone who knows what she's doing, should be able to hit the ground running, and may be more comfortable with sitting a few games out than some other signing of her calibre.
Meanwhile, Spence needs more game time and wants her good performance to have a real impact on how her team does. Without a doubt, she'll 100% get more game time at Spurs unless they sign 8 players this summer, and the way she performs could be crucial to whether their season is a failure or success. So, lets see how Drew Spence does in her first season outside of Chelsea in 14 years.