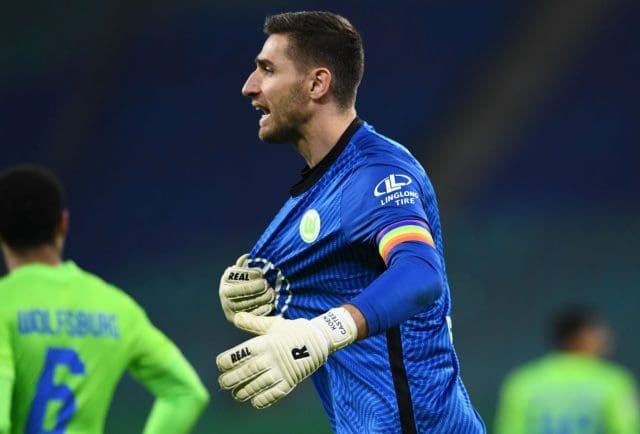 Jose Mourinho, renowned for the way he sets his teams up defensively, is widely unsettled with a certain member of Tottenham's backline and it is none other than Tottenham's No.1 for the last decade in Hugo Lloris. Captain and a huge voice on the ground and in the dressing room, Lloris has had a lot of mistakes in him over the past couple of seasons.
While Jose Mourinho has had a history of picking fights with the leaders of a squad, for example, Ramos and Casillas at Real Madrid, Gary Cahill, and Eden Hazard at Chelsea, however, the Portuguese's opinion regarding Lloris is well justified.
Hugo Lloris has been making a lot of errors while the World cup winner is also not all that comfortable on the ball, a quality essential in modern-day football for a goalkeeper.
Jose Mourinho & Tottenham have made a list of a couple of candidates to replace the Frenchman next season and the latest addition to that list is Wolfsburg keeper Koen Casteels.
Why does Mourinho want Keon Casteels?
Koen Casteels, a popular name in Germany is on the radar of the Spurs and there are several reasons for it.
A KRC Genk and Hoffenhiam youth product, Koen Casteels joined Wolfsburg in 2015 for just £1.35 million and if the keeper hadn't proved his worth in past seasons, this season, the 28-year-old has been in sensational form, keeping 13 clean sheets in just 27 games, topping the Bundesliga Golden Glove list.
To put things into perspective, the Belgian has kept 6 more clean sheets than Manuel Neuer this season who is lauded for his efforts between the sticks.
Apart from his performances this season, what must have attracted Jose Mourinho and Tottenham is the Belgian's abilities on the ball. The 28-year-old has been an excellent passer of the ball this season averaging 2 to 3 accurate long balls this term for the German side.
Embed from Getty Images A team containing the likes of Son Heung-Min, Lucas Moura, and Steven Bergwijn need a keeper who can launch the counter-attacks from deep while it would also do a world of good to Harry Kane if somebody is constantly pinging the balls to him as it would help him to head the ball straight onto the several runners behind him in Son, Moura, and Bergwijn.
Moreover, Casteels' reflexes are faster and stronger than Lloris, someone who has been found guilty of letting the ball past his near post on more than one occasion this season. A brilliant shot-stopper is essential at a club like Tottenham who face plenty of shots from outside the box and Casteels has proved his worth in that department this season.
However, the Belgian's performances this season has been due to his increased awareness and his positioning which has been spot-on this season as Wolfsburg have only conceded a measly 25 goals this season.
While Mourinho might be interested to secure the Belgian's services, Wolfsburg can hold out for a huge fee as the keeper signed a new deal just over a year ago and was tied down to a contract until June 2024. Additionally, Casteels is not the only highly-rated keeper on Mourinho's list.
Mike Maignan, Sam Johnstone have all been looked at and while they have their own innate abilities between the sticks, Tottenham might have an advantage in procuring Koen Casteels.
Casteels is determined to be a part of Belgium's World Cup squad next year and a move to a top club might put certainly put him in contention for it, as at Tottenham, he would be dethroning the current World Cup winners' captain.
While it is still early doors, Mourinho has had a knack of completing deals early in the transfer window and a goalkeeper might be one of the first incoming transfers through Tottenham's door next summer.