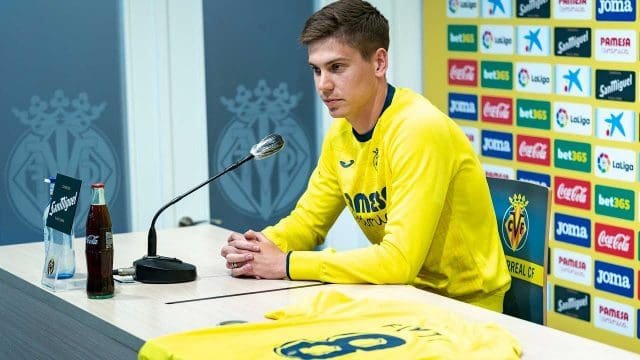 It would be an overstatement to say that Tottenham Hotspur have had a disastrous season, but there are a lot of gaping problems that need to be fixed at the club as soon as possible. While Daniel Levy hunts for a new manager, there are several things the club could look to fix until then, and a huge part of it is Tottenham's partially leaky defence.
Tottenham have conceded 38 goals this season, which is more than Arsenal and Aston Villa who are currently 10th and 11th in the Premier League table. This situation could, however, be fixed very easily and without spending a penny. Juan Foyth, who is currently on loan to Spanish club Villarreal, has performed exceedingly well for the Yellow Submarine and Tottenham could slot the Argentine into the team next season.
Why should Tottenham call back Juan Foyth?
In July 2017, Spurs brought Juan Foyth to the club for just €11 million as they thought the youngster could become a long-term replacement for the aging Jan Vertonghen. While the defender only made 7 appearances in his first season, he was showing promise and the then manager of Tottenham, Mauricio Pochettino, could see the talent.
In the following season, Foyth went on to make 17 appearances in all competitions for the club and it felt like the defender could become a mainstay at the club for the next decade. However, in November 2019, Pochettino was sacked and Foyth had to start from scratch to impress the new manager, Jose Mourinho.
Those who know Mourinho will also know that the Portuguese always prefers experience over youth and Foyth was not making the cut in Tottenham's squad. The next step, as it would be for any youngster to gain experience was a loan move.
On the deadline day of the summer transfer window, Foyth agreed on a loan move to Villarreal, who were happy to have a center-back of Foyth's potential. It did not come as a surprise to anybody that Foyth settled in immediately.
The defender has gone from strength to strength this season as he made his 30th appearance for the Yellow Submarine in the Europa League semi-final against Spurs' rivals in Arsenal. Foyth displayed all the qualities this Spurs side are currently lacking and the club would be kicking themselves for sending a talent of Foyth's ilk on loan.
The 23-year-old has held his own this season. Foyth currently averages an 89% pass completion rate while the defender has also developed an eye for through-balls this season. However, Foyth's basic duties as a center-back are winning the aerial duels, tackles and ensuring defensive solidity, all of which Foyth has done admirably this season. However, Foyth also has the quality and versatility of playing as a right-back as he did so against Arsenal in midweek.
The Argentine has been dribbled past less than once per 90 mins this season while he is also achieving 3 successful tackles and 2 key interceptions per 90 mins. Something Foyth has developed over time with Villarreal this season is his understanding of the game and his defensive positioning. The defender's starting positions have been key to Villarreal reaching so deep into the Europa League this year and with now with an advantage after the 1st leg of the semi-final, Foyth could go on to win the Europa League this year, something Tottenham were knocked out off in the Round of 16 itself.
While Tottenham could and should call Juan Foyth back, it is not in their hands anymore. Villarreal included an option to buy the player in the summer for around €15 million and with Foyth's current contract at Spurs ending in 2023, it will be a bargain for the Yellow Submarine should they choose to activate that option.
Tottenham needs a quality defender and Juan Foyth is the man for it. However, contractual obligations could be Tottenham's doom this summer as Villarreal knows the kind of quality Foyth possesses, something Spurs wish they had known before.