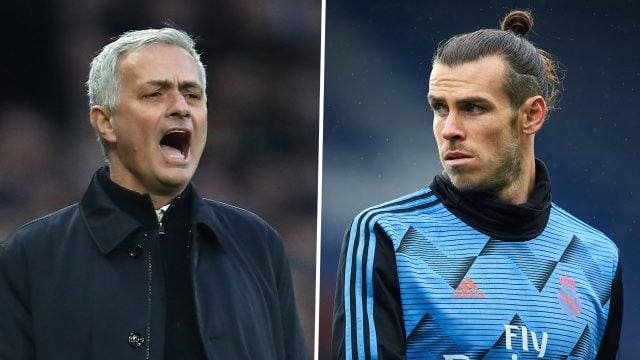 Tottenham Hotspur manager Jose Mourinho has refused to comment on speculations claiming Gareth Bale is edging closer to a return to the Premier League.
Reports emerged yesterday that the Real Madrid star is in talks with his former side over the possibility of rejoining them this summer after failing out with manager Zinedine Zidane at the club.
The north London outfit are expected to sign the 31-year-old on loan this summer, as the Spanish club look forward to clearing him off the wage bill.
His agent confirmed both clubs are in talks as the Wales international wants a return to the Tottenham Hotspur Stadium this summer.
"Gareth still loves Spurs," Jonathan Barnett told BBC Sport Wales. "We are talking [Spurs, Real and Bale's camp]. It's where he wants to be."
He also added to AFP: "It's close but not done. It's a complicated deal."
And speaking to the press this morning, Mourinho has refused to be dragged into conversations of his side signing the experienced winger.
"Gareth Bale is a Real Madrid player. I don't comment on players from other clubs. I can't comment. That is not my job to have contacts with agents. I don't want to comment on that."
Asked if he would like Bale in his squad, he said: "I don't comment on hypothetical stuff. He's a Real Madrid player. I have to respect that.
"I tried to sign him for Real Madrid which was not possible to do during my time there. But the president followed my instinct and my knowledge and the season I left he brought Gareth to the club.
"There is no secret on [my admiration of the player], I think even Gareth knows that."
Bale had a standout season during the 2012/13 Premier League season before sealing a move to Real Madrid, winning both the PFA Players' Player of the Year and Young Player of the Year that season.