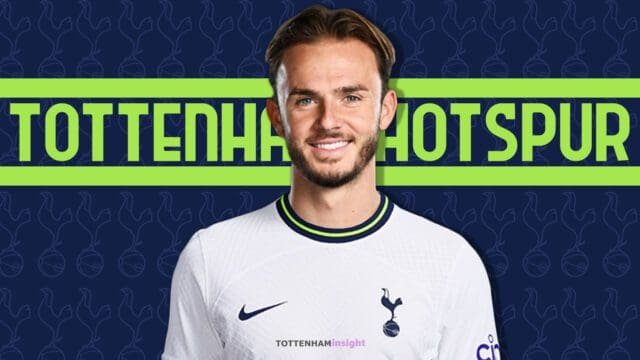 Tottenham Hotspur's pursuit of Leicester City midfielder James Maddison has taken a major stride forward, according to renowned transfer expert Fabrizio Romano.
With competition from Newcastle United, Maddison's potential move to Spurs appeared to be progressing slowly, leaving doubts about his inclination to join the club. However, in a recent update, Romano revealed that Maddison has now agreed to personal terms with Tottenham with the deal to be signed in the next 24 hours, marking a significant development.
Reevaluated Offer and Settlement
Initially, Spurs submitted a combined offer of £50 million for Maddison and Harvey Barnes, which was promptly rejected. Nonetheless, the Lilywhites have evidently reevaluated their approach and presented a more appealing offer to Leicester.
Fabrizio Romano reports that the two clubs have verbally settled on a £40 million fee and are currently ironing out the details regarding payment formalities. It's a good fee for a player who possesses immense talent and is yet to enter the prime years of his career.
Tottenham have now verbal agreement in place with Leicester to sign James Maddison, here we go! ????⚪️ #THFC

Personal terms agreed, deal ready for £40m fee after talks advanced to final stages yesterday night.

Next steps: medical tests, documents being prepared and then signed. pic.twitter.com/KAPgOzQiXO

— Fabrizio Romano (@FabrizioRomano) June 28, 2023
Enhancing the Midfield with Maddison's Versatility
Maddison's versatility as a No. 10, wide player, and central midfielder addresses a notable gap in the skill set of our existing midfielders, particularly in terms of chance creation.
Bringing Maddison into the squad will immediately elevate the quality of our starting XI and foster intense competition among our seasoned players. Leicester's relegation to the Championship made it highly improbable for them to retain Maddison.
This Tottenham squad has absolutely no player who is even close to Maddison in terms of mere playmaking abilities. Assuming Harry Kane stays here, it'll be an unbelievable partnership for Ange Postecoglou to work on this upcoming season.
Solving Tottenham's Creative Issues
Since Christian Eriksen left the club way back and went to Inter Milan, Tottenham have been looking for answers to solve their creative issues in midfield. Back then, everyone assumed that Dele Alli would be the read deal.
However, few footballing careers would have seen a steeper decline than that of Alli and Tottenham never really found their Christian Eriksen. That could all be set to change with the signing of Maddison.
This latest move orchestrated by Daniel Levy and his team is seen as a shrewd piece of business. For a club not known to make the wisest decisions in the transfer market, things have gone well for the club for a change.
Getting James Maddison done would be half the problems solved for Tottenham's midfield. Let's hope this transfer gets official real soon.