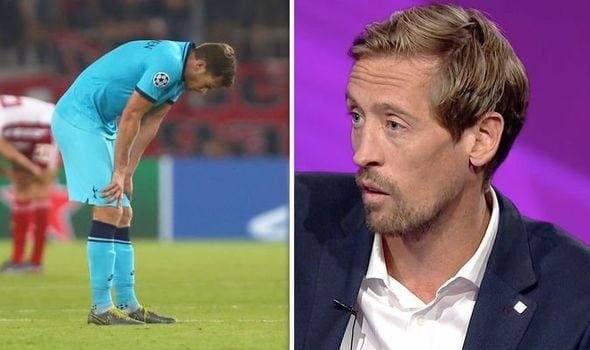 Tottenham gave away a two goal lead to Olympiakos in the second half to kick off their Champions League campaign. The last time finalists on a losing cause were two goals too good going into the second half of the game. Harry Kane's penalty and Moura's exquisite finish made us believe we were good to 3, but the hosts had different plans.
This is the second time this season that Spurs have managed to bottle up two goals lead, with Arsenal being the first one and Peter Crouch reckons that the draw against their North London Rivals caused tonight (that being in the minds of the players).
Harry Kane cushioned Spurs lead from the penalty spot on both occasions and Olympiakos, like Arsenal, pulled a goal back just before the break through Daniel Podence. Mathieu Valbuena slotted one in from the penalty spot after half time to equalize.
And Crouch, who has taken up being pundit for BT Sport, says the Arsenal draw definitely was in the minds of Tottenham players.
"They've been fortunate, Tottenham, to be 2-0 up, in my opinion," Crouch said.
"They didn't start the game well and then obviously the goal just before half time killed them really. I did worry for them in the second half.
"It looked like a dive at first but obviously he did stand on his foot. I think the Arsenal game was in their head, without a doubt.
"Once they go 2-0 up and then the goal just before half time, mentally it's 'here we go again'.
"I've been there and it's difficult to get out of that mindset when you're in it."
Despite taking only one point back home, Harry Kane is confident over qualifying for the knockout stages.
"We put ourselves in a great position, after that we controlled the game but conceding a goal before half time changed the momentum," Kane told BT Sport.
"In the second half, it was 50/50, we could have done better on the ball but a point away from home.
"Last season we didn't start too well and had to play catch up, this is only the first game and we are definitely backing ourselves to go through."