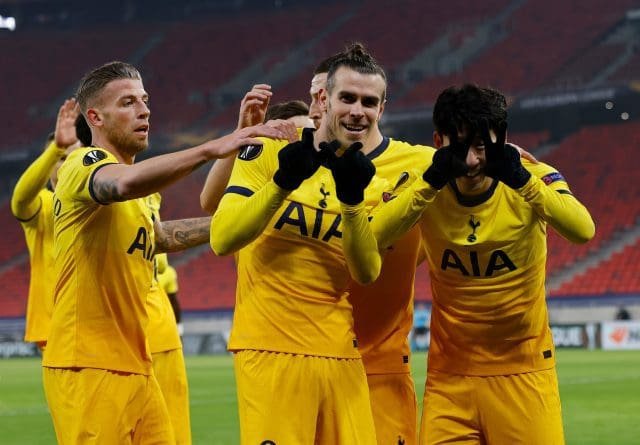 It has not been all rosy for Gareth Bale at Tottenham Hotspur in his second stint here, as the Welshman, since his arrival, has only started 2 Premier League games, with Bale's majority playtime coming in the Europa League. The Madrid loanee has scored 3 goals in the Europa League this season, with his last goal coming against Wolfsberger, in their Round of 32 tie against the Austrian side.
Gareth Bale scored 2 and set one up as Tottenham all but secured a place for themselves in the last 16 of the competition and Jose Mourinho would be happy with his team's performance, especially with the Welshman's. Bale has only played 292 Premier League minutes this season and within good reason, as in that time, he has only scored 1 goal and provided 1 assist.
When Tottenham Hotspur agreed to a deal with Real Madrid for Bale, they were expecting a player who would put in the hard strides and try to revive his career and contribute on the attacking front to reduce the burden on Harry Kane and Son Heung-Min. Gareth Bale is a 4-time Champions League winner and he has played a huge role in winning every one of those trophies.
Till now, Spurs have not received a return on their investment and Jose Mourinho must be getting impatient. This is why a lot of people were happy with Bale's performance against Wolfsberger, with the Welshman hoping that this could be his chance to revive his season and prove the doubters wrong who have often criticized him for 'not even trying to come into the game.'
In all fairness, Gareth Bale is 31, so it would unreasonable to expect him to make powerful runs beyond the defence now but he can re-invent himself like most players have done to themselves when they have turned older. Players like Cristiano Ronaldo, Zlatan Ibrahimovic, Luis Suarez all have lost some pace but because of their willingness to play, they have re-invented themselves which is why they are still so successful in the game.
CHANCE TO TURN THINGS AROUND:
Gareth Bale, in the 2012/13 season, quite possibly delivered one of the best individual seasons anyone ever witnessed in the Premier League era. What was so brilliant about him, is that he wanted the ball to his feet all the time because he was so confident in himself that he could create or contribute to his team in one way or the other. There were shades of that in the game against Wolfsberger in the first leg as the Welshman actively made a run behind a full back to cross in for Son, to score a simple header.
What came after that was even more impressive as Bale yet again was on the end of a through ball but this time he quite brilliantly cut in on to his left foot and scored a thunderous striker into the corner roof of the net. That is something the Welshman never lost. He always had a wand of a left foot and now after a long time, he is putting it to good use as he is actively contributing to his team's goals and commanding the ball with his feet again.
'He is towards the end of his career' – Jonathan Barnett, Gareth Bale's agent responded when he was asked why Gareth Bale was not playing regularly. No matter how old you are, this is not something you would want anyone to say about your career. Clearly, Gareth Bale does not share the same opinion as he is actively trying to regain a starting spot in Tottenham's Premier League games.
As the saying goes, 'In football, it is never too late' and Gareth bale will surely be hoping that this holds true for him as he tries to re-create his glory days with Tottenham and help his side as they look to push for a place in the Top 4 of the Premier League.