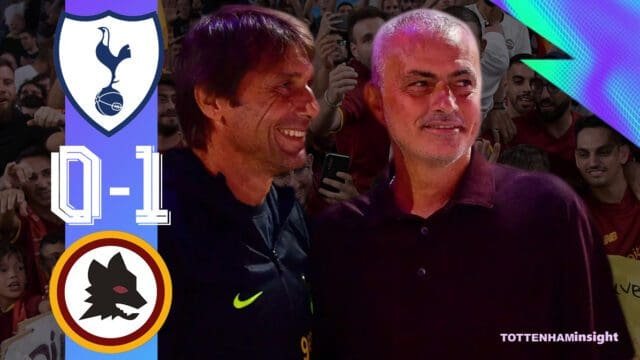 Former Spurs chief Jose Mourinho made a triumphant return to action against Tottenham Hotspur, managing AS Roma to a 1-0 pre-season friendly win at the Haifa International Stadium in Israel. The 59-year-old Portuguese, who departed the Spurs hot seat in 2021, has had a successful stint with Roma thus far, steering the Giallorossi to victory in the inaugural Europa Conference League last season.
Expectations are high in the Italian capital that Roma and Mourinho can go even further in 2022/23 and challenge for their first Serie A Scudetto in more than two decades. A pre-season fixture with Antonio Conte and Tottenham will have more than whetted Mourinho's appetite – even if he would publicly refute that remark. Mourinho's reign in North London was largely underwhelming, failing to bring a trophy to the club that owner Daniel Levy so craves.
All too often, Mourinho was left to bemoan the lack of strength in depth within the Tottenham squad. Despite his remit to win any kind of domestic or European trophy, Mourinho was forced to sacrifice the Carabao Cup due to an overly congested fixture schedule. Competing on three fronts simply didn't add up for Mourinho and Spurs. It's been a similar issue for Mourinho at Roma, who also lack the depth that Italian giants Inter and Juventus have on offer. The difference being that Mourinho's rotation worked at the Stadio Olimpico.
Mourinho's Roma were Tottenham's final pre-season test before the 22/23 Premier League
Before Tottenham begin their 2022/23 Premier League campaign, Spurs locked horns with Roma in Israel in a friendly contest that was a full house at the Haifa International Stadium. Mourinho facing Tottenham was one of several intriguing headlines in Israel, including a debut for Roma's marquee Argentine signing Paulo Dybala. For Antonio Conte's men, this game was more about coming through unscathed, with league matters only hours away.
Roma took the lead midway through the first half with a Dybala corner headed home by Roger Ibanez. The game was played in extreme heat, which disrupted the flow of the game due to the periodic drinks breaks. Tottenham went into this game with an undefeated pre-season record and Conte named an unsurprisingly strong starting XI in readiness for the new campaign.
Kane and Son started in attack, with the width ably provided by Kulusevski. The midfield contained a healthy does of experience and dynamism, with Hojbjerg joined by new recruits Bissouma and Perisic. It was the latter who looked to settle quickest, with the Croatian nearly scoring on three separate occasions from range. Nevertheless, Roma had the better of the opening 45, with Dybala almost scoring in the first minute, only to be foiled by a stunning Lloris save. Dybala then teed up Ibanez to open the scoring on 29 minutes with a close-range header.
Spurs fans see the irony in Mourinho shutting up shop
The second half saw Roma turn attack into defence, with the Giallorossi seemingly content with containing Spurs and keeping them at arms' length. Many Tottenham fans took to social media in the hours after the contest to joke about Mourinho's defensive nature, which was often the number-one criticism of his tenure from the Spurs faithful. In truth, the flow of the second half was spoilt by a series of substitutions, but Roma certainly had little ambition going forward in the second 45.
In the end, Spurs were seemingly content with taking a narrow defeat on the chin and moving on to more important matters and their opening day league encounter with Southampton.
As for Mourinho, he looked suitably smug when shaking hands with Conte at the final whistle. The 'Special One' is also said to be keen to return to his former employer for a signing ahead of the new Serie A campaign. Mourinho is looking to hijack AC Milan's bid for Japhet Tanganga, which has hit the rocks in recent days.
The Rossoneri had agreed a deal in principle for Tanganga's services, which would see him move to the San Siro on an initial season-long loan, but Spurs are keen to agree an obligatory transfer fee for Milan to take him on a permanent basis next summer. This appears to be the primary stumbling block which could allow Mourinho to step in and snap up the powerful defender that can play at full-back and centre-half.