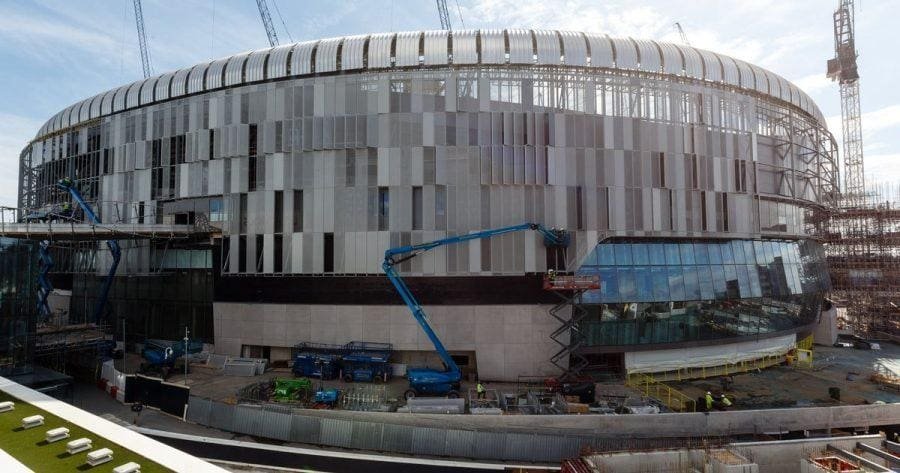 The club officially announced the name of their new stadium and i don't think they really did put any effort to think about a name for it, so they ended up naming it – 'Tottenham Hotspur Stadium'
New home, new identity.

Unveiling our #SpursNewStadium brand identity.

More – https://t.co/JaZk7AeRTS#COYS pic.twitter.com/mI1OOHjqz7

— Tottenham Hotspur (at 🏡) (@SpursOfficial) July 26, 2018
As soon as the they announced the name people took dig at the club for choosing such a name.
Spurs released a statement earlier about the new brand identify.
"We are delighted to unveil our new stadium brand identity." a statement read.
"As well as becoming a new, world-famous home for Tottenham Hotspur, our new stadium will also stage NFL matches, concerts and other major events, as we look to create an iconic global sports and entertainment destination in Tottenham.
"Our new stadium will currently be known as Tottenham Hotspur Stadium with the 'A' of the word 'Stadium' stylised to create an arrow pointing north, to represent our proud North London heritage.
Here are some reactions on the same.
The name Spurs haven given to their new stadium?

White Hart Lane ❌
New White Hart Lane ❌
Tottenham Hotspur stadium ✅

Wonder how long it took them to come up with that one… 😂😂😂 pic.twitter.com/TVqDgLQsop

— CaughtOffside (@caughtoffside) July 26, 2018
Spurs used some real imagination to name their new stadium

— Luke Harvey (@LukeHar26631609) July 26, 2018
What a boring name for a new stadium #Spurs

— David Neville (@lil_neville) July 26, 2018
Absolutely delighted that after all this time, Spurs have finally come up with the fantastic new name "Tottenham Hotspur Stadium" for our new ground. Genius that. Genius.

— Lea Karasavvas (@Mortgage_Mind) July 26, 2018
i hope spurs have not paid alot of money to a company to come up with the name for there new stadium

— Peter Griffiths (@pwgriffo) July 26, 2018
I hope Spurs aren't paying their branding team a lot for that new stadium name 😂

— Braxton (@braxtonofficial) July 26, 2018
Spurs new stadium name is about as exciting as their transfer window pic.twitter.com/pvrqflBcJg

— Toby Fennell (@TobyFennell98) July 26, 2018
Spurs announce name of new ground…

"Tottenham Hotspur Stadium"

They obviously spent a lot of time thinking about that one pic.twitter.com/dX3ZmtBAPA

— Football Ground Map (@footballgrounds) July 26, 2018