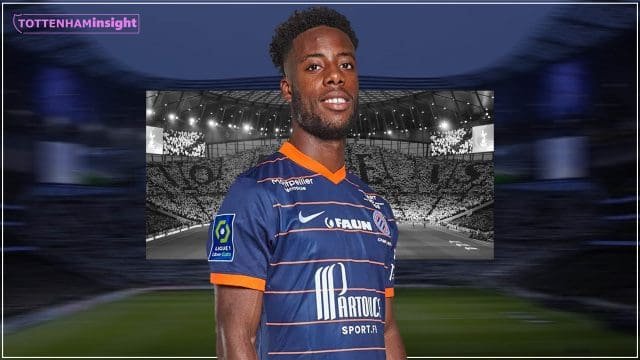 Elye Wahi, the 20-year-old French striker, has become the talk of the town in the Premier League. Clubs like Chelsea, Arsenal, and Tottenham Hotspur are all vying for his signature.
With impressive performances in Ligue 1, the 20-year-old French striker has caught the eyes of top English clubs. Wahi is a player who has a lot of potential and it is understandable that the big guns want to snap him up early.
Amidst the fervent pursuit for his signature, Wahi's aspirations and the uncertain future of Tottenham's Harry Kane add an intriguing twist to this transfer saga.
A heart set on the Blues: Wahi's intriguing transfer saga
Despite interest from several suitors, Elye Wahi has set his heart on donning the blue jersey of Chelsea. The Blues have long been searching for a new number nine to fill the vacancy and it looks like they have a star in Nicolas Jackson.
Despite a substantial €27.5 million offer from Chelsea to Montpellier, it is Wahi's unwavering desire to join the club that adds an intriguing twist to the transfer saga, raising questions about Tottenham Hotspur's position in securing the young star.
A long-term vision: Wahi's footballing ambitions
While uncertainty looms over his immediate playing situation, Elye Wahi is guided by a long-term vision for his career. He feels that Chelsea is the club where his career goes to the next step.
He is determined to choose a project that fosters his growth and development as a footballer. Although Tottenham and Arsenal showed genuine interest, various factors have complicated their pursuit of this young prodigy for now.
Intriguingly, Wahi's preference for Chelsea might prove to be a blessing in disguise for Tottenham. With uncertainties surrounding the future of their talismanic striker, Harry Kane, the club may need a more established player to fill the void.
While missing out on Wahi would mean missing out on a top-tier wonderkid, it is not the kind of investment that we need to be making right now. The talented striker might be better off going elsewhere.
Whatever said and done, Wahi is destined for the very best in the world of football. He just needs to have the right attitude and make the correct career choices to reach the summit. Let's see how his career pans out.