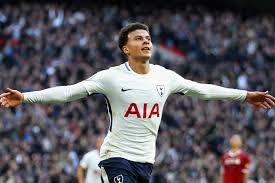 Delle Ali has been one of the inform players for Spurs this season. He also became the clubs youngest captain when he captained his side against Tranmere Rovers in the FA cup.
Spurs are having a solid season and look destined to end their trophy drought this season, having already booked their place in the EFL semi finals and last 16 of the Champions league and fourth round of the FA cup while also sitting 3rd in the league 6 points behind Liverpool.
Spurs now take on Chelsea in the EFL semi-final clash as they look to book their place in the EFL final. Delle Ali believes now is the time for Spurs to start winning trophies.
He told The Mail: 'We want to win trophies, that's our aim and we've been playing well, we've been getting quite far in recent years without quite having the finished product,'
'But it's about time for us, as players, to start winning things.'
'Some people maybe expect you to prioritise different things but I believe we have a strong squad,' added Alli.
'We have players who work hard in the gym and on the training field to make sure we're fully fit and the manager makes changes. He's very good at that.
'When you're going into different competitions, you can't take your foot off the gas but you've got to be consistent and keep up your top level.
'We had been in great form before Wolves and maybe we got a little bit carried away with ourselves. Maybe we just thought we would win the game. But you can't do that if you want to win things.'