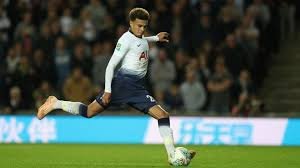 Spurs star Dele Alli has admitted Spurs made a mistake of taking Wolves for granted in the premier league fixture which resulted in Spurs losing their 5 games unbeaten streak in the league.
The defeat also meant Spurs fell to the 3rd position 9 points behind leaders Liverpool.
However, with Liverpool's defeat at the Etihad stadium Spurs have reduced the gap to 6 points.
Talking about the match against Wolverhampton Dele Alli told the News & Star: "I don't think he needed to say too much, to be honest. As players, we were disappointed."
"We had been in great form before that and maybe we got a little bit carried away with ourselves. They're a fantastic team and maybe we just thought we would win the game (against Wolves). But you can't do that if you want to win things and be a top, top team.
"You have to be clinical and ruthless in every game and you can't afford to take your foot off the gas and we all had a look at ourselves after and we know we can't let that happen."
"With the games coming so quickly, it's a good thing when you lose a game to have a game a few days after because all you want to do is get back out there and make things right," he added.
"You can't afford to dwell on it or let it knock your confidence because that's when things can take a turn for the worse. You've got to turn over quickly and make sure you're switched on for the next game."