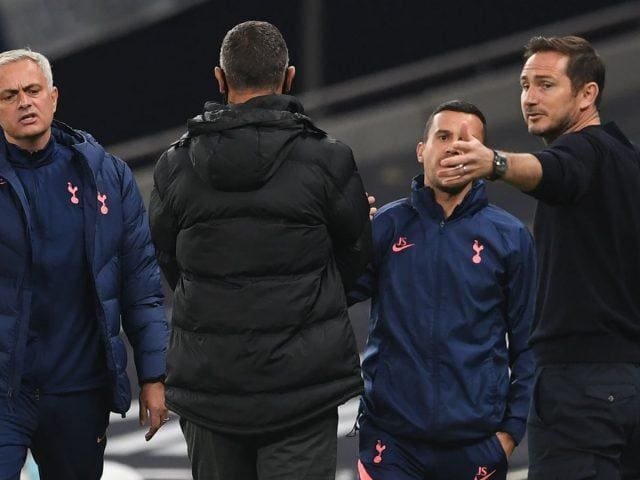 It's the London Derby this weekend! Arguably this season's best 2 sides of London are here to face each other. It isn't it, as we witness The Master facing the The Apprentice as Mourinho is back at Stamford Bridge opposite to Frank Lampard. If that's not enough, it is Chelsea's 1000th game in the Roman Abramovich's era.
Also as things stand, it would not be wrong to consider this as a potential title deciding match. With so much on stake, the clash this weekend would be certainly a mouth-watering clash.
Here we look at a Combined XI of the best players from both the teams:
Formation: 4-2-3-1
GK- Hugo Lloris
Lloris, the World Cup winning captain, had to make the cut over Chelsea's first choice Mendy. Frenchman has been the leader at the back for Tottenham for years and will be a better choice over any other keeper in the league. However, Edouard Mendy has been exceptional since his arrival this summer but the experience of Lloris edges him over.
RB- Reece James
This position was not a competition between 2 players but surprisingly between 4. Both the clubs have 2 perfect options. Reece and Azpi share the bond of an emerging youth and the experienced one while Spurs juggle between the new signing and the old one in form of Doherty and Aurier. Picking James over the other 3 was though a bit easier as Doherty has not impressed much this season and neither Aurier gives confidence. Also Reece has been benching Azpi for most of the games this season with his impressive balanced performance in attack and defence, thus compiling us to choose Reece over him.
CBs- Thiago Silva and Toby Alderwiereld
Thiago has been the bargain signing of the summer as he has just transformed Chelsea's backline. He has been the leader in defence for The Blues and has played similar role throughout his career. His leadership and solidarity just makes him the obvious choice. Along with Thiago, picking Zouma is so tempting but one cannot rule out the great performances of Toby for Spurs. Ever since the departure of Vertonghen, Toby has taken up the responsibility to lead the back 4 for Tottenham and for the same he deserves a spot in our XI.
LB- Ben Chilwell
A toss-up between the two new summer signings. Both Chilwell and Regulion have been pretty impressive and have certainly improved the Left Back position where both clubs lacked quality the last season. But considering the impact both of these had made on their respective teams, we edge Chilwell as not only has he boosted Chelsea's performance but has also silenced many critics who did not rate him well. Chilwell not only has been great going up, he also has been solid defensively not letting opposition attack from his side.
CDMs- Ngolo Kante and Hojbjerg
The Chelsea No.7, Ngolo Kante, has now been deployed as the lone CDM in the 4-3-3 used by Frank and we can see Kante regaining his prime form. Kante now looks that he has got his soul back and in his prime he has to be the best player on the field and we just cannot leave him out of our team. Alongside him we get in Spurs' latest signing Hojbjerg. Jose has always been known to run with a great CDM at his previous clubs. With the advent of Pierre-Emile Hojbjerg this summer people expected something similar and he has certainly lived up to the hype. He is the only Spurs player to play all 90 minutes in all matches in their PL campaign this season. He for sure has great future under Jose and we do think he deserves a place here.
CAM- Kai Havertz
This one has to debatable considering the attacking threat both the teams possess. But for the no.10 position we had two front runners in form of Mason Mount and Kai Havertz. Mason as said by Frank and Southgate has one of the best work rates on and off the field. He is great on set pieces and also great defending back. But we just cannot rule out how good Kai Havertz has been in the previous seasons. He justifies the price tag that Chelsea paid for him. He might not have hit the ground running in England but certainly we cannot keep him out of our XI.
RW- Hakim Ziyech
The Moroccan Magician has arrived in London. The Wizard of Amsterdam can now be called The Wizard of London. After missing the initial phase of the season, Ziyech just made great impact in his initial games in the Blue jersey. He has been fantastic with his left foot crossing balls, shooting outside the box and initiating the press. With more matches to come, we can see him being named among the best of the game if not the best.
LW- Heung-min Son
The best Asian player Premier League has ever had! This guy has delivered for Spurs every time. His start to this season has been the best he could have imagined. He definitely had competition in form of Christian Pulisic for the position, but with Pulisic facing injury issues it made all that easier for us to put him in our squad.
ST- Harry Kane
The England captain and arguably the best striker in the Premier League has to lead the line for our team . Chelsea do have 3 quality strikers in form of Giroud, Tammy and Werner but Kane earns the spot. He is in fact walking in any team he plays for and considering the goal scoring record he has in the league, he has to be the obvious choice. This season as well he already already has 16 goal contributions which is almost twice in each game and this just shows the stature of this player.
Our Combined XI: Hugo Lloris; Reece James, Thiago Silva, Toby Alderwiereld, Ben Chilwell; Ngolo Kante, Pierre Emile Hojbjerg, Kai Havertz; Hakim Ziyech, Heung-min Son, Harry Kane