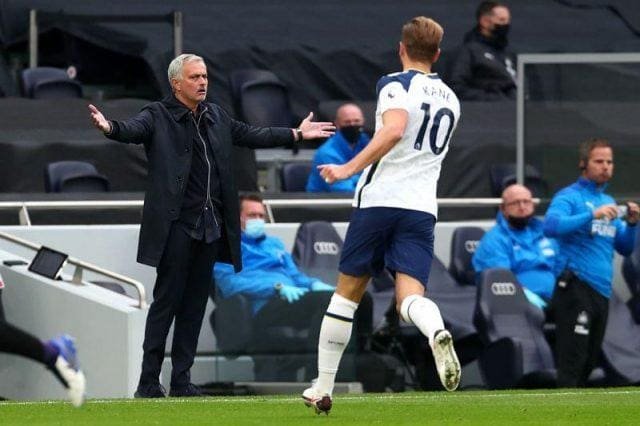 Many people were skeptical about the future of Tottenham Hotspur when Jose Mourinho was selected as their head coach but by far the team seems to have made huge leaps and bounds as compared to what Jose had inherited.
Jose is known for the defensive prowess of his teams and the way in which he sets them up to absorb as much of the attack as possible and be ruthless when it comes to attacking on the counters. It may not be the most beautiful version of the game but it certainly gets the job done and his resume will reflect his efficiency.
With Spurs though he has adopted a different strategy and it has been a goal galore, something which most of us may never have expected. Their offense seems to be on fire scoring left and right for fun yet there are more than a few instances when they look really shaky at the back.
For instance, you may remember the match against West Ham where they took a 3-0 lead only to draw at full time or even in the Europa league where they have conceded goals to teams that fans may not have even heard about.
The inclusions of Matt Doherty and Sergio Reguilon at wing backs has helped bring more stability at the wing back positions along with a genuine threat going forward but their centre back pairing can still seem to be out of place many a times.
Eric Dier has been converted into a makeshift centre back by Mourinho alongside Toby Alderweireld and at times they can be pretty slow to react when the ball is coming at pace and Alderweireld isn't getting any younger by the day.
To his credit Eric Dier has done his best to transform himself into a more complete defender even though that is not his natural position. He has even tried his best to divert all the aerial threat away from goal and it all seems good when their attack is on fire but when the pressure is severe, I'm not really sure whether the defence of this team can handle it.
The defence is very crucial when it comes to winning titles and I think Spurs can have a very bright future ahead of them if only they manage to solve this crisis at the back. They may even have to break the bank to get someone who is really solid and commanding at the back but if done properly it can be totally worth it.