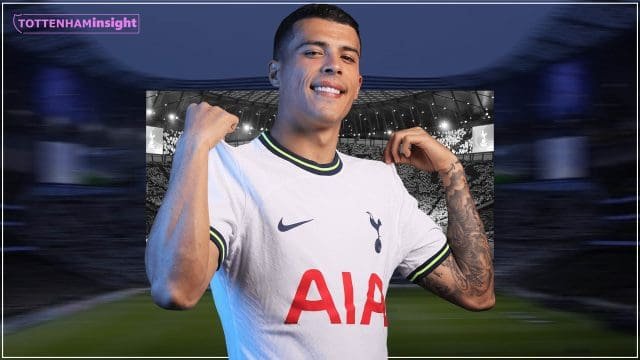 According to the Spanish publication Fichajes, Barcelona are interested in signing talented Spanish star Pedro Porro who plays for Tottenham Hotspur.
Spurs secured the exciting talent of Pedro Porro from Sporting CP during the January window. However, the 23-year-old right-back has had a rollercoaster ride since his arrival at the London club.
The Spanish giants are actively searching for a top-tier right-back, with Porro emerging as a prime candidate for reinforcement. Given his nationality, the allure of joining Barcelona may prove irresistible for the talented player.
Originally on loan to Spurs in January, Porro's move was expected to become permanent this summer, with a fee of £39 million. However, it remains to be seen if Tottenham want to sell him so soon after signing him.
Barcelona have occasionally relied on players like Jules Kounde to fill the right-back position, underlining their pressing need for a specialist in that role. This is where Porro's exceptional skills could come into play.
Porro's adaptability and the fluid attacking style of Barcelona's play make for a seamless fit. Furthermore, his versatility extends to operating effectively as a wing-back, perfectly aligning with Xavi Hernandez's preferred tactical approach.
Barcelona, fresh off securing the league title, undoubtedly harbours aspirations of leaving an indelible mark in the upcoming Champions League campaign. However, they are hampered by their financial constraints to a large extent.
The right-back position has been an Achilles heel for Tottenham for quite some time now. Finally, we seem to be having two fixed names in Pedro Porro and Emerson Royal competing for the single spot.
To be fair to Porro, adapting to England is no walk in the park and the Spaniard has continuously shown signs of improvement throughout the season despite finding himself deployed in different tactical systems and different positions.
Ever since Porro's arrival in January, Emerson has also turned over a new leaf and surely seems to be getting better. After months of inconsistency, the former Barcelona man is showing the quality he used to in La Liga.
If we keep signing players only to sell them six months later, we will be in absolute shambles. Pedro Porro has immense talent and he certainly will come good this season. There is no way Tottenham must be considering a sale for him.
Regarding Barcelona's interest, it is highly unlikely that they will actually go through with an offer for Porro. Even if they do, Tottenham must keep him and let's hope we do just that.