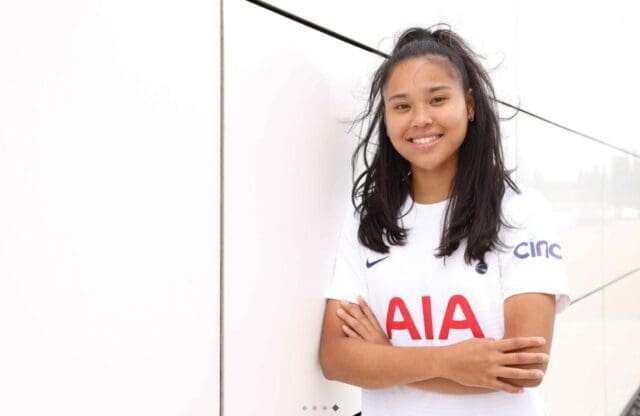 Spurs aren't the most interesting team in women's football, so you might not have heard much about one of their newer addition, Asmita Ale. The 19-year-old has already played 32 matches in the Championship and a further 19 in the WSL. Aston Villa fans may know her well from her three seasons at the club, but apart from that she hasn't experienced the upper echelons of the game much.
Asmita is part of Aston Villa's crop which left in the summer, which includes the likes of Arsenal winger Mana Iwabuchi and Wolfsburg's Lisa Weiß. She left the club after 11 years, as she came through the youth academy from the age of eight. She's also a youth international, as she has progressed through from the England U17 squad to the England U19 squad. She has played a total of 22 matches for the England youth teams, including 13 for the Young Lionesses.
But, despite Asmita receiving her first professional contract around 3 years ago, many are just starting to hear about her career, and specifically how talented she is. When she signed her first professional contract (which was with Aston Villa), she said, "It's been a dream of mine to play football as my job, and I'm delighted that it's at this club." But apart from her undeniable love of the sport, how has Asmita Ale become one of the league's best defenders?
THE ASTON VILLA ACADEMY
I can't really find much information for when she joined the Villa Academy, apart from her Wikipedia, which states that she joined in 2010. Asmita did play in the WSL Academy League in 2017/18, where she made 2 appearances. That was her breakthrough season in the Aston Villa first team, but she likely played for the U21 team more than she played for the reserve team.
As mentioned earlier, Asmita joined the academy at the age of 8, so didn't need to join a boys club like many of the current generations which are coming through. Players who have had the same career path as Asmita will become more common, as girls' and women's football becomes more mainstream.
CAREER IN THE WOMEN'S GAME
Asmita Ale has played women's football for 4 seasons, at two different clubs. She initially came through in a dire Aston Villa side who were in 9th place in the Championship, which was known as FA WSL 2 at the time. The Villans only avoided relegation due to Watford's abysmal performances, as the Hornets picked up 4 points and conceded 57 goals. However, she was a bright spark in an extremely poor team.
Asmita Ale became a regular fixture in the Villa side despite being just 17, as she fittingly played 17 matches out of a possible 20. Villa finished 6th with her help, but were the best of the rest instead of promotion candidates. Manchester United and Tottenham got promoted, with Spurs (the 2nd placed team) finishing 20 points above Villa. During the 2017/18 season, Asmita collected her first goal in the women's game.
In the 18/19 season, Asmita was a solid defender, and it stayed that way for the entire of the new 19/20 season. She only played 12 games as COVID-19 cut their season short, but it wasn't enough to stop Aston Villa from going unbeaten and being promoted to the WSL at the first time of (properly) asking.
Now that Villa was in the Women's Super League, some thought that they would make Asmita a squad player, considering that she was only 18 going into the season. However, she did maintain her stronghold on the squad, playing 18 out of a possible 22 matches, which helped the club preserve its WSL status.
After the 20/21 season, Asmita Ale decided it would be best to move to a higher team, despite only having 1 full season in the WSL. She left Villa during the summer after declining a new contract. She moved to Spurs, where she has played 5 games in the 5 available games, and is making everybody forget that Alanna Kennedy and Siri Worm left the club, with Asmita comfortably slotting into their roles.
WHAT NEXT FOR ASMITA ALE?
The England U19 international will be turning 20 on the 3rd of November and she is getting regular game time at Tottenham Hotspur. She is one of the most experienced youngsters, and Spurs should definitely be looking to keep her for at least the next few seasons to come.
Asmita shouldn't attempt to move away from Spurs unless something serious happens, such as a serious lack of game time or relegation faces the club. When she reaches around 24 years old, she might want to move to a top club, but her career progression would have to be stable and also that means a lot of speculation is required, which isn't what I do.