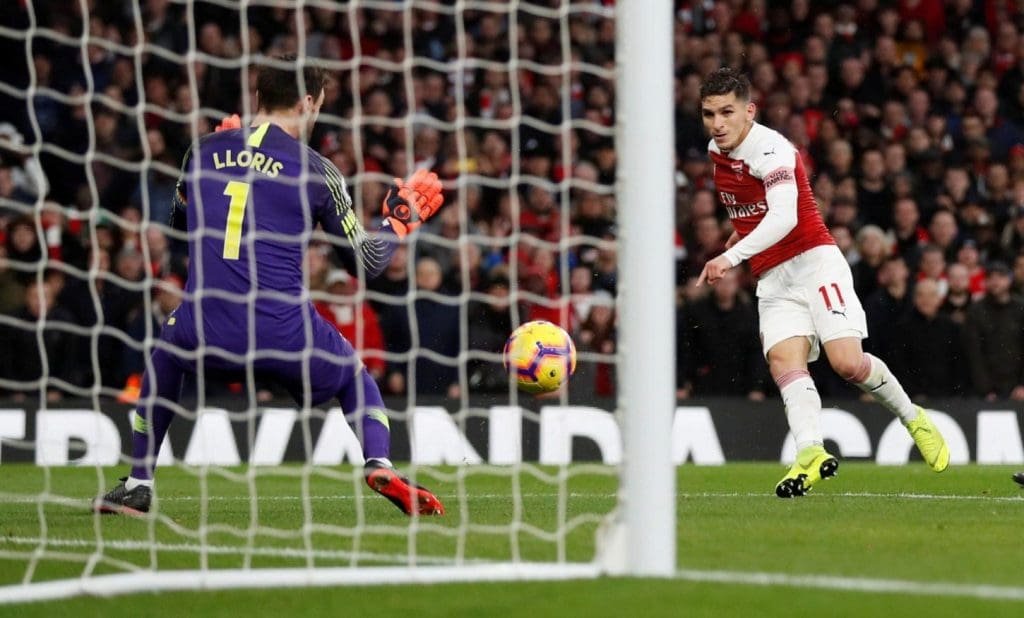 The North-London Derby was an absolute treat for the lovers of football as it had so much to offer; beautiful football, amazing saves, astonishing finishes, penalties and a red card as well. But the night was more delightful for the Gunners as they defeated their neighbourhood-guests 'the Lilywhites' by a 4-2 result.
Arsenal's win means they have now jumped ahead of Tottenham Hotspur in the points table to the 4th position and their 19 matches undefeated run also continues.
Surely what an amazing footballing atmosphere was witnessed at the Emirates Stadium. Arsenal came back from being 2-1 short to win the match by 4-2. Spurs were good or maybe not enough good, but Arsenal were undoubtedly excellent. The Gunners have seen a drastic change in the form under the new manager Unai Emery as they have been invincible since losing the starting two matches under him. Spurs who were doing great in managing a tough schedule after beating Chelsea and Inter Milan finally came down to a defeat.
Let's have a look at the summary of the entire match.
SUMMARY
Arsenal started with a bang and tested Spurs with frequent attacks. Spurs were taking the punishment finely but were unlucky to concede a penalty in the 10th minute after Vertonghen was booked(yellow) for a handball inside the box while jumping to head away a cross. Pierre Emrick Aubameyang took the opportunity and comfortably scored from the spot. Spurs had not even managed to bring themselves back from the harm done early in the game, Arsenal came with another attack. This time Aubameyang received a cross right in front of Hugo Lloris but for the luck of Spurs, he wasn't able to handle it properly and thus missed the chance. As the game progressed Spurs started keeping possession and building attacks.
Their first shot on the target came through Son Heung-Min who stuck a powerful low shot towards the right post but was saved by Leno. Spurs were getting their grip tight in the game and finally got a breakthrough when Christian Eriksen's curling freekick was headed inside the goal from a close range by Eric Dier. Only a couple of minutes had passed and Spurs got a penalty after Son was brought down by the Gunner's centre-back Rob Holding. Harry Kane made no mistake and converted the dead ball into a goal, thus giving his team a 2-1 lead over Arsenal. The first half ended with Lloris making an amazing save to the Musatfi's looping header, as the goalkeeper pushed the ball away from his right hand, from just below the crossbar and denying Arsenal a chance of leveling.
Arsenal made two changes before starting the second half as Alexandar Lacazette and Aaron Ramsey came in place of Alex Iwobi and Henrikh Mkhitaryan, respectively.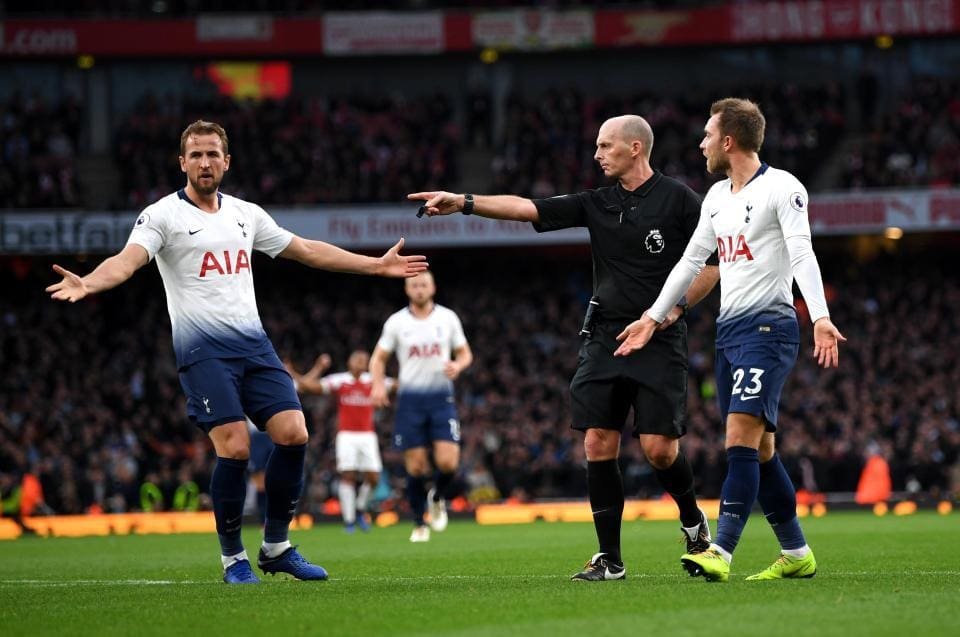 The first side which came close to scoring was Tottenham when Kane curling freekick from the distance was tipped over the bar by Leno. After a few minutes, Arsenal made a quick counter-attack with Hector Bellerin making a curvy pass to Ramsey who one-touched the ball to give it to Aubameyang who finally sent the ball inside the right side of the goalpost through an arcing finish, leaving Lloris to stand like a statue.
Arsenal didn't sit quietly after equalizing in the 56th minute and continued to put efforts for another one. And they got success in doing so in the 74th minute when Lacazette hit a left footie grounded shot towards the left down corner, after receiving the ball from Mustafi. His shot got a slight deflection from Dier's feet and went into the back of the net.
Lucas Torreira was the one to put the final nail on the coffin for Arsenal after beating Lloris to a clean finish and making it 4-2 in the minute 77th. Spurs could never make a comeback from that goal and the North London derby ended in a crazy win for the Gunners who celebrated like mad dogs after the final whistle.
PLAYER RATINGS
Tottenham Hotspur:- Lloris (5), Davies (5), Vertonghen (3), Foyth (5), Aurier (6), Dier (5), Sissoko (7), Eriksen (6), Alli (6), Son (6) and Kane (7).
Subs:- Rose (6), Winks (5) and Moura (6).
Arsenal:- Leno (6), Mustafi (7), Sokratis (7), Holding (6), Bellerin (7), Torreira (8), Xhaka (7), Kolasinac (7), Iwobi (5), Mkhitaryan (7) and Aubameyang (9).
Subs:- Ramsey (8), Lacazette (8) and Guendouzi (7).
MANAGER'S COMMENTS
Mauricio Pochettino:- "Arsenal, Tottenham, we are 30 points each [in the Premier League]. There are still a lot of things to play for. To be sporting enemies is a fantastic thing but I don't want to criticise what people want to do. What it shows is the respect that they have for us. When people celebrate like this, it's because people respect you and see you as a big club. When we arrived here five years ago, it was normally Arsenal always above Tottenham. But in the last two seasons, we were above them. To get respect is the most important thing or the first step. It's clear we are doing something good. That respect – I love it. I love it when people celebrate when they beat you. I don't like it when the people don't celebrate because it's normal to beat Tottenham."
WHAT'S NEXT
Well, after the North-London derby another big game awaits for Arsenal as they are set to visit Old Trafford to face Jose Mourinho's Manchester United in this midweek. Even though the Red Devils are not in a good shape, a match against them on their home turf is any day a special match. Emery's men would want to take advantage of the United's current form, therefore, continuing their winning run and maintaining their presence in the top four.
On the other hand, Spurs are now a point behind Arsenal and sit at 5th position in the table. They have another game at home where they would be welcoming Southampton this Thursday. Spurs would want to get back to the winning ways and keep pressure upon Arsenal and Chelsea for the third and fourth positions.