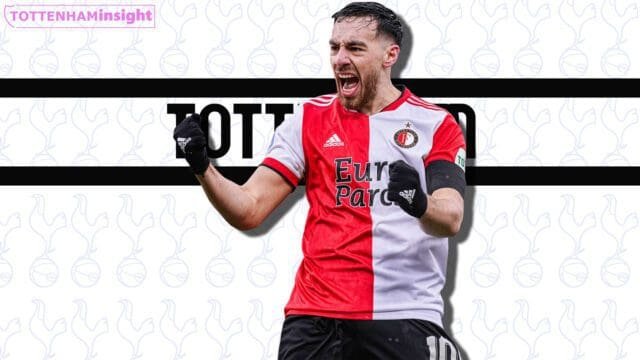 It has been reported that Tottenham Hotspur's endeavour to secure the services of Feyenoord's manager, Arne Slot, is approaching its culmination. It is believed that the Dutchman is poised to assume the leadership position at the North London club. Although an official declaration is still pending, it appears inevitable that Slot will be appointed as the next in line to succeed Antonio Conte.
As per a report by 90min, Slot has communicated his desire to join Tottenham to Feyenoord, while The Athletic's Charlie Eccleshare has disclosed that the club is gearing up to make a formal proposition for the much-coveted strategist. Assuming no unexpected circumstances arise, it is anticipated that Slot will assume the position of permanent manager at Spurs, following his recent triumph in securing a championship victory with Feyenoord.
BRINGING HIS VALOR ARSENAL FROM FEYENOORD
A key contributor to Feyenoord's victory was midfielder Orkun Kokcu, who has been the subject of speculation regarding his potential transfer to England alongside his manager during the upcoming summer. Kokcu is a Turkish national and according to a report by Dutch outlet 1908.nl, preliminary discussions have been initiated between Tottenham and Kokcu, with the midfielder's valuation estimated to be approximately €40m (£35m).
Should Slot assume the managerial position at Tottenham, acquiring the services of Kokcu would prove to be a shrewd move for the incoming coach. The individual who is 22 years of age has exhibited noteworthy performance during his tenure at Feyenoord, with a total of 12 goals and five assists in 45 matches across various competitions throughout the current season. Cumulatively, Kokcu has participated in 59 goals across 174 matches for the club.
Kokcu's multifaceted skillset is an alluring attribute of his performance, as he has demonstrated proficiency in various positions, such as functioning as an advanced playmaker or occupying the flanks. According to journalist Marcel van der Kraan, Slot is inclined to recruit the youthful midfielder owing to his influential role in Feyenoord's squad, drawing a comparison to Phil Foden of Manchester City.
Kokcu's predominant position is in the midfield, albeit in a deeper-lying role in contrast to Foden. Nevertheless, Jaap Stam, the former Feyenoord manager, has recognised Kokcu's potential to operate as a left midfielder or a No.10, similar to his counterpart at Manchester City. According to FBref, both Kokcu and Foden exhibit exceptional proficiency in advancing the ball, with Kokcu recording an average of 2.87 progressive carries per 90 minutes over the past year, which is comparable to Foden's 2.97 for the same metric.
DENOUNCEMENT
Acquiring Kokcu's signature would represent a notable achievement for Tottenham, as they strive to establish their own iteration of the gifted Phil Foden. Foden's commendable displays for Manchester City have resulted in him securing several league championships, and his colleague John Stones has characterised his proficiency as "alarming." Should Slot succeed in persuading Kokcu to join Tottenham Hotspur during the upcoming transfer window, it has the potential to be a highly advantageous decision for the team.
As events transpire, supporters of Tottenham are anxiously anticipating the official announcement of Arne Slot as their recently appointed manager, along with the prospective acquisition of Orkun Kokcu.
MUST READ: Unveiling the Potential – Analyzing Tottenham's pursuit of Lucas Beltran