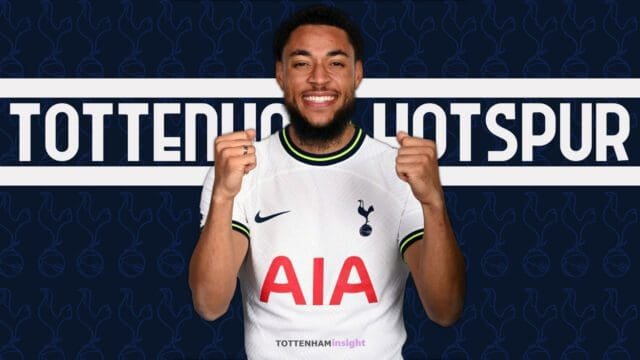 After a long and drawn out saga which included Arnaut Danjuma abandoning Villareal in search of a transfer to England without having anything in sight yet, to completing his medical and paperwork with Everton (which he then didn't send to the FA), to then finally signing with Tottenham Hotspur on loan.
It's one of the most bizarre stories of the transfer window so far but Danjuma got what he wanted in the end… but can you blame him too much? Everton are flirting with relegation and are without a manager at the moment (at the time of writing), following Frank Lampard's sacking. If the opportunity arose, plenty would do the same.
Spurs successfully hijacked the former Villareal man in a loan deal with a reported £35m buyout clause at the end of the season.
Danjuma is no stranger to life in England and he already has 14 appearances in the league and another 33 in the Championship with AFC Bournemouth. He never had a goal contribution at the Premier League level but he truly blossomed in the Championship with a 15 goal and 7 assists. He went on to score another 2 in the play-offs but Bournemouth couldn't reach the final.
WHERE DOES HE FIT?
Heung-min Son has been having a poor season by his standards so far, contributing to 7 goals in 19 games in the league so far.
That's the one spot in the eleven which Danjuma could get the most playing time in. Kulusevski isn't exactly a consistent regular either, with injuries limiting him to only 13 games in the league this season.
Wing back spots are mostly covered, with Ivan Perisic / Ryan Sessegnon on the left and Matt Doherty / Emerson Royal on the right with the yet-to-be-completed transfer of Pedro Porro in the works.
There's still plenty of season left for Arnaut Danjuma to prolong his stay in London but him just being here will possibly have a positive impact on Son in terms of competition for places.
He's no stranger to playing as a centre forward either with Emery pairing him up in a two-up top a lot of the time.
TYPE OF PLAYER
Danjuma is a winger capable of going both inside and outside. He's strong in the duel and explosive from a standstill. Once he's in his groove, the fullback is in for a rough day.
Diogo Dalot knows…
Arnaut Danjuma loves taking on players in an aggressive powerful manner but also running in behind. He's a smart winger and has good awareness in the final third. He had a more free role under Emery regarding pressing the opposition, often staying higher up and not initiating the press but he has the physical capabilities to be a solid pressing option.
SEASON STATS
Danjuma has only scored 2 in La Liga this season with another 4 coming in the Conference League and Copa del Rey. A goal every 136 minutes this season.
He had a more prolific season last year where he scored 10 in the league combined with 2 assists and another 6 in the Champions League on top of one assist. His great form in the Champions League was a massive part of Villareal's run to the semi-finals where they were knocked out by Liverpool.
His impressive run in the Champions League consisted of scoring against some elite opposition in Atalanta, Juventus and eventually Bayern with an assist coming against Manchester United at Old Trafford.
DEBUT AGAINST PRESTON
Arnaut's debut for Tottenham Hotspur came on versus Preston in a 3-0 victory and he immediately contributed. He only touched the ball 3 times in the 19 minutes he has been on but he made them worth it. He came on as a CF in what was potentially a tryout from Conte to see if he can contribute up top in Kane's absence.
The 25-year-old winger slipped away from his marker in the box in the 87th minute and delivered on a precise Kulusevski cutback.
He'll remember his debut for sure as he looks to take that into the next game against Manchester City, coming Sunday.
If he does leave Villareal on a permanent in the summer, he'll leave holding the title of Villareal's best-ever Champions League scorer for the time being even if it's only 6 goals. His goodbye with the fans might not have been perfect but I'm sure they'll always remember him for last season's successes.